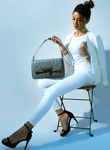 In January, our Independent Retailer team scouted out the scene at UBM Fashion's ACCESSORIES THE SHOW, held at the Jacob Javitz Convention Center in NYC. What did we find? We discovered an enormous array of influential fashion retail decision makers paired with the world's top fashion brands, all wrapped up in the most amazing collection of accessories found anywhere.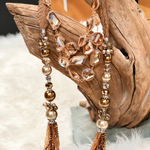 The show was started by UBM plc, and now UBM Fashion is the leading producer of world-renowned fashion tradeshows including the likes of MAGIC, Coterie, PROJECT, and ACCESSORIES THE SHOW. Having now grown into the cathedral-like space of the Javitz Center, the show boasts an exhibitor list that can't be beat. From trendy bags and footwear from Adrianna Papell and Cofi Leathers, to boxed jewelry and hair accessories from Kitsch and Felicia Jewelry, to luxe handbag designs from Sondra Roberts and Expressions Milo, the show offers thousands of products for every buyer's palate and presence.
Are you looking for on-trend mobile cases that offer style as well as functionality? Do your shoppers crave funky, original jewelry that sets them apart from everyone else? Would you like your store to be known as the must-shop place to find accessories to match every possible outfit? If you'd like to find products to answer all of these questions, check out the Brand Book on the show's web site, and plan to attend the next show. You'll be glad you did!

For buyers seeking upcoming show details, hotel reservations and travel information, please visit www.ACCESSORIESTHESHOW.com or contact UBM Fashion at 877-554-4834.