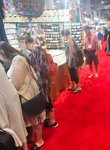 The California Marketplace show, an Urban Expositions wholesale trade show, continues to transform itself and offer West Coast retailers an ideal space to browse and discover California-made products of every kind.
"Our show attendance draws heavily from Southern California and other parts of the western region. These retailers, like all retailers, are searching for those new, different and undiscovered resources that can attract new customers and sales," says Christina Bell Davis, Vice President, Gift & Souvenir for Urban Expositions.
Local Spotlights
The company very deliberately chose to develop a strong offering of locally created and crafted products to highlight the variety and value of West Coast artisans. Buyers interested in apparel, fashion jewelry, fashion accessories, gifts, and other popular and trending personal and home accessories will be delighted with the depth and breadth of the supplier offerings. Show management is especially proud to be able to offer such high quality, right in West Coast buyer's backyard.
Popular mainstays including show sections highlighting Artisan Crafts & Gifts, Global Style, Vintage and Jewelry Cash & Carry sections will be joined by hundreds of newly crafted product offerings in apparel, home textiles, stationary and more. Don't miss the 'Launching pad' preview area where suppliers will debut their latest and greatest products as well as showcase a few sneak-previews of best selling designs.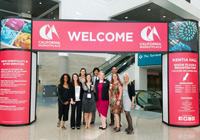 Ideal So-Cal Location
Of major importance to the local indie retailer is the show's accessibility for West Coast buyers. By supporting and shopping at the Los Angeles show location of the California Marketplace , regional retailers are able to save on travel, reduce their time away from their stores, and keep their buying dollars in their own geographic region.
Buyer tip: Urban Expositions Social Media Manager Alison Walkley suggests checking out Instagram, Pinterest, Facebook and Twitter before attending the show. Connecting with your favorite artisan via the show hashtag #CAMKTPLACE will allow buyers to follow the latest trends in products, as well as share the fun before, during and after the show.
Buyers interested in attending the show will find discounted hotel rates through California Marketplace's official housing company, which is easily available via the show's web site. Buyers are eligible for a parking rebate up to $10 off at any of the LA Convention Center lots when pre-registered for the show. For more information and to register for the upcoming show, please visit www.california-marketplace.com.