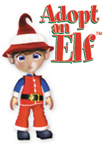 While a child 50 years ago would have been happy to just play with a doll, today's kids want to use technology to further connect with their toys. ImaginaryKidz.com was created for today's tech savvy children to experience greater enjoyment with their playthings. "The company started 10 years ago with KrisKingle.com, a website where parents helped kids send Santa a letter," says Michael Bovill, president. "Then my wife, Alexandra, started writing a book about Santa's puppy, named Tracker. We did an interactive site for the book with an associated stuffed dog. That was the first product we sold, and it did very well." The company then launched Reindeer on the Roof, another interactive stuffed animal and website, located at www.reindoorontheroof.com, where the child receives either a seven or 10 inch reindeer, a house, and a small journal. Each reindeer comes with a secret code to login to the website, which allows the child to visit Santa's house, the reindeer barn, elf house, and tracking station, through games, arts and crafts, songs and stories.
Holiday Inspired Interactive Toys
ImaginaryKidz.com plans on continuing the success of Tracker and Reindeer on the Roof through six new adopted characters, soon to be released. This includes the Adopt an Elf, Duck, Bunny, and Snowman stuffed animals and websites. The Adopt an Elf 3D website will allow children to adopt an elf for Christmas, visit Santa's house to check if they have been naughty or nice, and many other fun activities with their elves. Much like the popular Webkins series, after getting the stuffed animal the child will adopt the character by filling out an adoption certificate, then go online using their code to further connect with the adopted character.
Retailers such as gift stores, boutiques and other stores carrying plush toys are ideal places to market these stuffed animals. The products wholesale from $5 to $8, retailing between $9.99 and $14.99. The minimum purchase is a full case, which includes six to eight pieces of one particular character. The adopted characters range from nine to 12 inches, and come in a window box with the adoption certificate included.
For more information:
Imaginarykidz.com
1643 Warwick Ave
Warwick, RI 02864
Tel.: 401-301-3976
Website: www.imaginarykidz.com