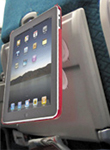 As more and more consumers buy iPads, other popular tablets and eReaders, there is a greater focus on accessories that can further enhance the tablet experience. MountMe's Freedom Mount is an all in one carrying and mounting device that gives the user unlimited options to permanently or temporarily secure the device in place. "The case is unique in itself," says Brien Stina, COO of MountMe. "It's reversible, clips on to a mounting bracket, and comes with strap and suction cups." On top of the case, the Freedom Mount features screws for permanent mounting; a heavy duty strap that can be used on headrests, car visors, or the user's leg, and four suction cups for effortless attachment to hard surfaces such as glass, mirrors, and refrigerators. In addition, the mount gives the user the ability to pan the device 360 degrees, and tilt 90 degrees for unlimited capabilities.
More Tablet Mobility Options
Launched in January 2010, MountMe's product is designed to allow for a comfortable gripping surface on any of the four sides of the device, conforming to the palm of the user's hand for comfort, while browsing the web, viewing photos, or gaming. To insert the device into the case, line up the four prongs on top of the bracket and turn clockwise until it clicks. The iPad is easily removed from the case by pushing firmly against one corner of the case, and then on the opposite corner once it is half out. The MountMe website features three "how to" videos that give step by step instructions to assemble the Freedom Mount, remove the mounting bracket, and all of the different uses of the product.
MountMe supplies Freedom Mounts to kiosks and a broad spectrum of independent retailers, anywhere tablets are sold. The Freedom Mount for the iPad and iPad 2 retails for $49.99, with wholesale prices ranging from the low twenties to $34.99, depending on volume. The mounting system is not limited to Apple products, however, as the Freedom UniMount is a universal mounting adaptation that goes on the back of other tablets and eReaders, so they may be used similarly. For first time orders there is no minimum, but subsequent orders require 50 units.
For more information:
MountMe, LLC
599 S. Collier Blvd, Ste. 217
Marco Island, FL 34145
Tel.: 888-707-9915 Ext. 5
Website: www.mount-me.com