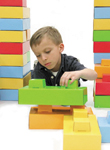 Specialty toy distributor, Fat Brain Toy Co., is looking to meet the needs of both child and parent by developing creative, mind expanding toys and games. In a previous interview, Mark Carson, president and founder, emphasized, "We aren't just selling playthings; rather we are developing toys that kids and parents can truly connect through." Actively developing an entire line of products unique for their design and creative sensibilities, as well as applicable to a wide range of ages, Fat Brain Toys has worked hard to introduce 10 new items in 2011 alone. The company hopes that games like Palette, a memory game involving the colors of the rainbow, will become part of its best selling lineup, along with its Dado Cubes and AnimaLogic merchandise.
Educational Family Fun
Suitable for ages six and up, Palette is a color game for the entire family, requiring the player's eyes and mind to work together for a winning result. As the company website explains, "You'll be challenged to put your memory to the test in just five short seconds, as you attempt to memorize a specific shade of color and then match it to the correct color wheel. Just the slightest difference between shade, tint or hue can completely change the game!" The game includes four artist palettes, 108 color chips, 18 color wheels, one cloth bag, and one five-second sand timer, as well as a color learning guide. Users have five seconds to view a specific color, attempting to memorize it. They then have to match the shade with the correct color swatch, and if done correctly, they will win that color chip for their palette. The first player with a complete palette (six color chips) is the winner.
Among this line of wholesale products under $15, retailers can expect to make a healthy profit, selling each game for $24.99 retail. With roots as an online retailer in 2002, Fat Brain Toys understands the constraints for independent retailers and allows for flexibility when taking orders. While a minimum order of a case pack of six is preferred, mix and match orders are also welcome. "Plus, we want to encourage stores to try our products," says Carson.
For more information:
Fat Brain Toy Co.
1405 N. 205th St., Ste. 120
Elkhorn, NE 68022
Toll Free: 800-335-5621
Website: www.fatbraintoyco.com