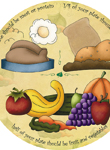 The increased focus on nutrition has permeated society, as families dedicate themselves to maintaining healthy eating habits. A new line of plates from Makit Products are among the tools to help achieve this goal, by educating eaters of all ages on proper proportion control of the different required food groups. "Makit Products has been making personalized dinnerware for over 40 years," says Nona Taut, senior sales executive. "We also specialize in featuring personalized and custom graphics on usable, shatter resistant dinnerware." Portion control is a topic everyone needs a lesson on, so Makit introduced a new line of Nutrition Plates for both children and adults. "We have seen how big today's society is on nutrition, and thought how cool it would be to add a nutrition concept line to our existing personalized dinnerware line," adds Taut.
Retail Stores Now Can Offer Makit's Personalized Product
The personalized product line works very well for retail stores. "We produce retail kit projects you stock on the shelf. Available kits include Make A Plate, Disney Character Plates, and now the customizable Nutrition Plates. Customers love the convenience of being able to purchase in a store," says Taut. The kit includes the necessary Makit's Photo Plate technology, which allows customers to upload their photo through Makit's website and send away for the finished product, which ships in two to three weeks. The wholesale cost for Nutrition Plate kits is $8.50, with a minimum of 25 plates. The suggested retail is $16.99.
The manufacturer has partnered with high profile companies such as Crayola, McDonalds, Fuji, and Kodak in the past, and uses their licensing deal with Disney in two of the Nutrition Plate designs, featuring well known characters mentioning the daily requirements for healthy living. The child can upload their photo onto a plate featuring Mickey, Donald, Goofy, or Pluto, or Winnie the Pooh, Eeyore, or Tigger and Piglet, allowing kids to see themselves with their favorite characters. The company also offers two designs for adults, divided into three sections for the ideal ratio of grain, protein, and fruits and vegetables.
For more information:
Makit Products Inc.
PO Box 769100
Dallas, TX 75376-9100
Tel.: 800-248-9443
Website: www.makit.com