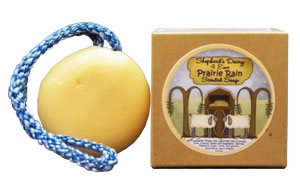 Artisanal soaps have been gaining popularity over the last year. New brands are popping up all over the place that deliver handmade creations, but nothing beats the luxurious and silky feel of soaps from Shepherd's Dairy 4 Ewe. From bar and liquid soaps to foaming soaps, they have everything your customers need to keep their hands cleansed and moisturized.
The Luxurious Feel of Sheep Milk
Shepherd's Dairy handcrafts rich and creamy soaps and lotions from high quality sheep milk, which is higher in butterfat than cow or goat milk. Lactose in the milk leaves the skin feeling silky smooth with a hydrated appearance. The milk protein smooths, firms, and softens the skin, while lactic acid can help even out pigmentation in the skin and can also play an important role in the treatment of sun damaged skin, which is perfect after the summer season.
An Endless Array of Soaps
This sheep milk brand offers a wide variety of hydrating soap options to stock your shelves and keep consumers' hands clean. They have 2 oz. Little Lamb Bar Soaps in four lovable scents, Guest Bar Soaps which come in a diverse number of scents and are great for hotels or bed and breakfasts, Victorian Soaps that have elegant designs, Primitive Bar Soaps that come with a rope to hang in the bathtub, and so much more.
Shepherd's Dairy also sells a variety of liquid and foaming soaps in a range of delectable scents your customers are sure to love. On top of soaps, the brand offers multiple different lotions, lip balms, bubble bath soaps, gift sets, and more with so many different fragrances to choose from. Each and every product is all-natural, with soaps containing pure vegetable oil, natural fragrances and sheep milk, and lotions containing all of the good qualities of the milk.
To get these essential lotions on your shelves, retailers can place an order by calling 308-643-7013. You can also visit the company's website to view their full collection at www.shepherdsdairy4ewe.com.
Shepherd's Dairy 4 Ewe
81051 Anselmo Rd., Anselmo, NE 68813