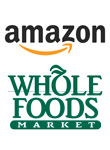 Amazon just announced plans to buy out Whole Foods Market for $13.7 billion early Friday morning. The trade values Whole Foods stock at $42 per share – much higher than the roughly $33 it was valued at end of trade Thursday night. The trade still has to be approved by Whole Foods shareholders. Right now it is estimated the deal will be finalized by end of 2017.
Amazon founder and CEO Jeff Bezos says, "Whole Foods Market has been satisfying, delighting and nourishing customers for nearly four decades… they're doing an amazing job and we want that to continue."
This announcement comes just days after Amazon listed new job openings surrounding their Amazon Go concept including a real estate manager responsible for negotiating new locations. The flagship Amazon Go store in Seattle isn't a traditional grocery store, but rather a convenience-grocery hybrid. The idea is that people can grab a quick breakfast, lunch on the go, or milk on their way home from work. This model meshes nicely with Whole Foods, which is widely popular not just for organic and healthy groceries, but also for their hot food bar, prepared foods, and café.
Amazon Go first opened their flagship store in January of this year. The grand opening garnered attention and hype from experts across the retail and tech industries. Most of the hype was surrounding Amazon's "just walk out" technology, which completely eliminates the concept of stopping at a checkout to make a purchase. The store uses artificial intelligence, advanced sensors, and your Amazon account to determine which products you are leaving the store with and charge your account accordingly. The Amazon Go pilot opened as an employee-only test model. However, after what seemed like little to no news or development, many industry experts thought the concept had failed or would remain exclusive to Amazon employees.
Today's announcement coupled with the recent job listings hints that Amazon has grand plans for expanding their pilot program. Whole Foods currently operates a total of 465 stores in North America and the U.K. This acquisition also means Amazon is now a major player in brick and mortar retailing.