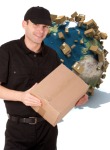 United Parcel Service expects a 7.5 percent rise in U.S. holiday shopping season deliveries and plans to hire about 50,000 seasonal workers to handle the increased volume, Reuters reports.
The world's largest package delivery company expects about 430 million deliveries during its peak season, up from 400 million last year, as consumer spending rises gradually with a slowly improving economy, Reuters says.
Deliveries are expected to reach 24 million worldwide on December 22, matching last year's busiest day. That volume is 60 percent above normal daily business.