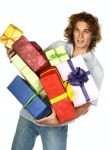 A strong response to early sales promotions and relatively mild weather have combined to push holiday shoppers into stores earlier this year, retail market-watcher ShopperTrak says. Consequently, the company has revised its Retail Sales Estimate of sales during the upcoming holiday shopping season, which are now expected to increase 3.2% this year over last, ChainStoreAge reports.
According to ShopperTrak, the 2010 calendar shift could strongly influence season performance this year as Christmas falls on a Saturday, meaning retailers lose a critical selling period late in the season. Conversely, the annually strong day after Christmas now falls on a Sunday, which history suggests will attract bigger sales and more customers than the regular Sunday between Christmas and New Year's.
The full story can be accessed HERE.