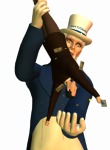 A "debt reduction sales tax" covering items from groceries to new homes and health care proposed by the Bipartisan Policy Center would result in massive job losses and prolong the nation's economic downturn, according to the National Retail Federation.
"Policymakers in Washington have been talking for months about a consumption tax as a solution for the deficit, but the truth is that it would have devastating consequences," Matthew Shay, president and CEO of the NRF, said in a statement.
The NRF commissioned Ernst & Young and the economic research firm Tax Policy Advisers to conduct an in-depth analysis. The study found creation of a narrow-based national Value Added Tax covering most of the same spending as current state sales taxes would result in the loss of 850,000 jobs in the first year while a broader VAT covering more expenditures like the one proposed in Washington would cause an initial loss of 1.1 million jobs.