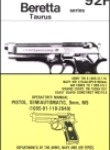 They say there's a market for everything, and the gentleman who runs Georgia-based Militaria Press can attest to that. Altamond Williams, founder and CEO of the military-themed site MilitariaPress.com, has been in business for 35 years, starting with a target shop that sold shooting competition equipment, and he even made his own ammunition. "I became a Master Class bulls-eye shooter," Williams recalls, "and my competitors thought it was because of the ammo I was using." So he had sales reps start calling on dealers to sell the items under the name 'Williams Precision Bullets,' "but no one could spell 'precision'" he says, "so we changed the name to 'Militaria.' They couldn't spell that either," he says with a laugh. "They kept calling it 'militia.' But the name stuck, so we kept it. True story."
Whatever you call it, you can also call it successful. Militaria Press says that about 95% of the military manuals sold in this country come directly from them, and their lineup is impressive. "The manuals make up about 40% of our business," Williams says.  The second biggest seller for the company is magazines and clips, but with a lineup of 5,000+ items, they have just about everything an enthusiast could want.
Interested retailers only need to produce a Federal Tax ID certificate and complete a short registration form to get started. Minimum orders are only $100, and most buyers enjoy a 100% or more markup on items they get from Militaria Press. "Most products we carry are in stock about 99.5% of the time," Williams says, "and we can ship the same day if we get the order before 2 p.m." Special deals and discounts are available for new customers depending on the size of the order. "Give us a call and we'll talk," Williams says.
For More Information:
Militaria Press
93Altamond Williams Lane
Collins, GA 30421
Tel.: 912-693-6411
Website: www.militariapress.com