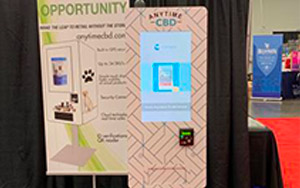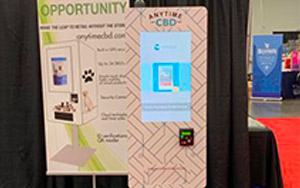 Whether your customers are struggling with sleeplessness, chronic pain, or plain old stress, Anytime CBD can help. They offer products for the morning, afternoon, and night to aid anyone's needs. From CBD topicals and oils to capsules and pain patches, they have something for everyone.
Anytime CBD is one of the nation's leading distributors of CBD products and automated kiosks and vending machines. The owners of the company are seasoned entrepreneurs and their passion, commitment, and tenacity have helped to make the business what it is today. To bring even more product availability to consumers, Anytime CBD recently forged relationships with c-stores in California and Chestnut Markets in New York to place vending machines in their stores.
Premium Quality Products
Anytime CBD offers a wide variety of CBD products, including oils, creams, diet aid stick packs, capsules, massage oils, roll ons, pain patches, and gummy bears. Their CBD is sourced from hemp plants tended  with care by American farmers, using supercritical CO2 extraction methods to yield the highest-grade CBD oil that can be found anywhere in the world. They do not process and package their merchandise until it reaches a threshold of 99.8 percent purity that is officially confirmed by independent labs. With Anytime CBD, you can count on products with maximized potency.
Innovation is Key
The company is constantly working on new CBD products and delivery methods to better meet consumers' needs. They believe innovation is the key to continually improving their customers' health and wellness. For more information on how to get an Anytime CBD vending machine or their products in your store, call 858-253-4243 or email info@anytimecbd.com.
Anytime CBD
3830 Valley Centre
San Diego, CA 92130
www.anytimecbd.com