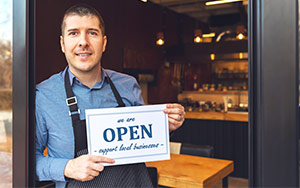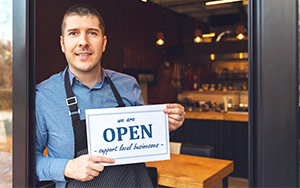 The holiday season can make or break many small to mid-sized retailers. In 2020, these businesses showed true innovation and found new ways to deliver products to consumers. But now that restrictions are easing and a return to normal seems within reach, what does the future hold and what behaviors will stick in 2021?
Silverback Strategies polled 1,048 consumers between Christmas and New Year's Day to answer these questions. The survey's research report provides a unique look at the buying behavior of holiday shoppers during the global pandemic. Consumers today expect a seamless user experience. For retailers, that experience includes both physical stores and online. Friction on either channel can leave revenue on the table. This article shares key findings from this research study to help independent retailers evolve their marketing strategies with changing consumer behavior.
In-Store Foot Traffic Was Strong
While some retailers may consider ecommerce as the preferred choice of consumers, driving in-store foot traffic should still be a marketing priority. The study showed 76 percent of shoppers traveled to a physical store location during the pandemic. Of this group, nearly 80 percent made an in-store purchase. Retailers did an admirable job making in-store shoppers feel safe during the holiday season. More than 50 percent of shoppers said hand sanitizers, mask policies, and social distancing reminder signs helped them feel safe.
However, now retailers could face another challenge getting customers to their stores in 2021. Data privacy regulations and digital advertising platform changes will make it harder to target individual users. Instead, retailers will have to rely on their own first-party data to fuel marketing campaigns and analyze performance. Store owners should work swiftly with in-house marketing teams and agencies to make sure marketing performance is not severely impacted.
Consumers Value the Convenience of Online Shopping
The pandemic raised the bar for many retail industries. Some consumers expect to purchase just about any product online and have it delivered straight to their doorstep, and while an impressive 76 percent of shoppers visited a physical store during the pandemic, more than 83 percent bought gifts online. Fear of contracting COVID-19 was a major reason why online-only shoppers did not visit a retail location, but the virus should not get all the credit. Nearly 50 percent of online-only shoppers said they did so simply because it was more convenient. Furthermore, more than half of consumers who made an online purchase said they visited a retail store website.
These findings suggest consumers are accustomed to interacting with retail stores online, and value the convenience of bypassing in-store shopping. The pandemic could be viewed as an accelerant of consumers adopting digital-first shopping behavior. Retailers who can create a cohesive user experience across both digital and physical spaces will have a marketing advantage in 2021 and beyond.
Retail Stores Influence Online Purchase Behavior
Findings from the study suggest "purchase intent," or how likely a buyer is to consider a purchase at a given time, was higher in-store than online. This was especially true of products requiring more consideration before a purchase, like jewelry and watches. In some cases, stores are more of a product showcase rather than a point of purchase for these kinds of products. Yet despite higher purchase intent at stores, an incredible 45 percent reported purchasing a product online after they saw it in a retail store. Clothing, toys, and consumer electronics were the top product categories to be purchased through this method.
Alternative Pickup Methods Likely to Stick Post-Pandemic
Consumers interacted with stores in a variety of ways. Outside of traditional in-store purchases, 37 percent of consumers who traveled to a physical store took advantage of buy-online-pick-up-in-store (BOPIS) to skip the lines and maintain a safe social distance. Another 30 percent reported acquiring gifts via curbside pickup. Despite being forced to interact with stores differently, some consumers found curbside and BOPIS to be not only safer alternatives, but also more convenient. For instance, a Brick Meets Click survey showed alternative pickup methods captured nearly half of all online grocery sales in February and grew in importance with 58 percent of consumers reporting they would be "extremely likely" to order with the same pickup service within the next 30 days.
John Tyreman is a seasoned agency marketer with a background in market research, and the lead on the research study featured in this article. Connect with him on LinkedIn and Twitter.