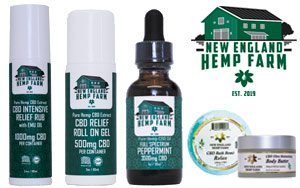 Time and time again, CBD has helped users to manage their chronic pain. Many companies are on a mission to continue testing and perfecting these premium products so more consumers can get their hands on them, and New England Hemp Farm is a part of this mission.
New England Hemp Farm is a family owned and operated New England-based CBD company, committed to providing their customers with the finest quality CBD products that can be made. The founders use their 30+ years of farming experience in Connecticut to grow premium quality hemp and to source high quality, U.S. produced, CBD oil. Each of their products is 3rd party independently tested, with a rich composition including less than 0.3 percent of THC.
CBD Products You Can Trust
New England Hemp Farm offers a wide variety of CBD products, including relief rubs, oils, vegan gummies, capsules, roll on gels, pet treats, bath bombs, body butters, pet oils, hand sanitizer, and many hair care and facial items. Two of the company's best-sellers are their vegan gummies and the relief rub.
The vegan gummies are super tasty and made with citrus pectin, so they have nutritional fiber to enhance bioavailability. Each gummy contains 25mg of CBD, with 30 gummies per bottle. The company's CBD intensive relief rub is convenient and easy to use. Formulated with 1,000mg of premium hemp oil, it also contains other natural discomfort combating ingredients including Emu oil. This powerful and effective approach provides relief for every type of discomfort, soothing upon contact, and can be used three-to-four times daily.
Finding an Answer to Chronic Pain
Brian Edmonds and Keith Bunovsky founded New England Hemp Farm in early 2019 after Brian started complaining about chronic joint pain. A friend suggested he try CBD lotion, which he had never heard of, and started a comprehensive search on all of the different CBD products and brands. Brian quickly became concerned about the quality and purity of the merchandise, and wondered how he could trust if the products were real CBD, how much THC they contained, and how much he needed to use for a true therapeutic dosage. After all of these questions came up unanswered time and time again, Brian saw this problem solving as a potential business opportunity, and so he and Keith conducted even more research on hemp and CBD and what they had to offer.
Today, New England Hemp Farm is a thriving business with three founding principles for CBD users:
Buy high quality, third party tested CBD products from a company you trust.
Learn what an appropriate dosage is for you.
Take CBD consistently for at least three weeks to a month and see how you feel.
To get started selling New England Hemp Farm's products, visit their website at www.newenglandhempfarm.com.
New England Hemp Farm
Email: wholesale@newenglandhempfarm.com