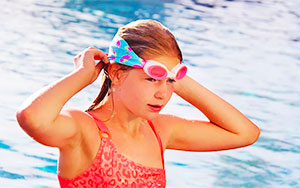 With Splash Swim Goggles, your customers will be able to spend more time enjoying their day at the beach, water park, or pool. Most goggles are hard to adjust and come with harsh rubber backs that tangle and pull at the hair, but these innovative products come with a wide band that easily and comfortably stretches to fit any adult or child.
No More Broken Straps or Pulled Hair
The founder of Splash Swim Goggles, Ashley Carson, first came up with the idea as she was getting ready for a family vacation and noticed how often her son's goggles would break and how her daughter's goggles would pull her hair. No one wants to spend their time at the pool messing with items that do not work and tangle the hair, so Ashley designed the first pair of Splash Swim Goggles and her kids were so excited to use them.
Putting Fashion & Comfort First
The brand officially launched in May of 2017, with their patent pending straps taking the frustration out of using swim goggles for consumers everywhere. These innovative goggles are kid friendly, with a stretchy band to fit both adults and kids, made with shatter resistant and anti-fog polycarbonate lenses, are latex and PVC-free, and constructed right here in the U.S. with imported materials. There are many different colors and designs to choose from, including flowers, camouflage, donuts, and dinosaurs, among others. Splash Swim Goggles also offers other beach products, such as colorful coin purses, towels, beach bags and tote bags, and bathing suit cover-ups.
The brand loves working with local mom and pop shops, boutiques, gift stores, and all independent retailers to help them grow their business. They are not looking for Amazon sellers, and are the only wholesaler that sells Splash Swim products on the mass retail website. Most in stock items are shipped out within one to three business days, and there is free shipping on all U.S. orders. Splash Swim Goggles are sure to be a huge hit in your store, so contact them today!
Splash Swim Goggles
Email: wholesale@splashswimplace.com
Tel.: 360-474-7363
www.splashswimgoggles.com