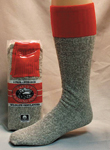 Wholesalers and retailers of apparel know all too well that success in the apparel industry is based on fast paced fads, time driven trends, and seasonal sales. Every new year and every new line requires goals and resolutions to stay ahead of the competition, and 2012 is no exception. However, for some veterans like Kerusso LLC, new year's resolutions don't have to be rewritten, just recommitted to. "Kerusso's accomplishment of 25 years is attested by increased sales, new product lines and strong customer relationships. As we come to the close of the first quarter, I feel a renewed excitement to reach more people and inspire them with our products," explains CEO and president, Vic Kennett.
Changing Goals for Changing Fashion
Kerusso may use pop culture as the inspiration behind its screen printed T-shirt designs and accessories, but the message these products present is solely inspired by Christian faith. "Simply, we want to present to the market updated fashion and designs, but more importantly, we want our message to be true and culturally relevant," notes Kennett. Adding to this, Lorri Carter, VP of creative development, says, "Customers purchasing inspirational merchandise are more particular about the message it sends than a customer buying an ordinary piece of apparel." It is this commitment to faith and customer feedback that Kennett wants to continue into 2012 and beyond.
Kerusso is continuing the company's success with current lines, as well as new accessories, apparel and novelty items. While over 20 designs were brainstormed for Kerusso's newest apparel line, customer feedback led to the production of nine adult and five children's T-shirt designs, along with four new caps and a patriotic promotional shirt. "The designs will make a great addition to the displays of those retailers already participating in the Light House Apparel merchandising program. They will receive the $8 discounted wholesale price per shirt, as opposed to the $9.50 price for retailers purchasing T-shirts on an individual basis," says Kennett.
He also points out that the original Lighthouse 20 program, a display showcasing 20 T-shirts at a time, has done very well for participating retailers. "Retailers already making a decent profit with our merchandise, who took the items off the shelf and used our display, showed an average increase of 300 percent in sales," Kennett adds. The newer Lighthouse 10 Apparel and Accessory Center is no less successful, and allows for an all in one Christian gift center for those retailers looking to add on to their Lighthouse 20 display, or with limited space. "This might also be a perfect option for those retailers that want to carry our new line of one inch wide, multi-color silicone bands, or the one of a kind survival bracelets for men," says Kennett. The survival bracelet is made of "in case of an emergency" paricord, and adorned with a dog tag that reads, "The Lord is my rock. The Lord is my fortress. The Lord is my deliverer." It makes for a great gift for men, something that is hard to find in specialty retail. For Kerusso and Kennett, 2012 is a year for many great things ahead, including the continuation of licensed products, and even in-house efficiency upgrades like a new phone system, so that every call can be received and every customer cared for. "Stop by our booth SL3136 at ASD Las Vegas to see more from Kerusso," says Kennett.
Alabama Wholesale Socks has seen growth since its new ownership in 2002, expanding wholesale business and evolving into manufacturing. And while already proud of the company's growth and progress, president Tommy Evans sets a year round goal of improvement. "I would like to see us improve our already great customer service by adding new efficient systems that will help turnaround time. I would also like to continue improving our selection," says Evans modestly. Alabama Wholesale Socks offers a variety of socks, including traditional cotton athletic, dress, diabetic and more.
Most of the products are American made, such as the company's best selling cotton casual and diabetic lines. "We offer some import goods only once in awhile," notes Evans. He also claims that Alabama Wholesale Socks may not carry the largest brand names, but is well recognized for Physician Choice diabetic socks, as well as its Ruggedz brand. For Evans, however, it isn't enough, and working towards his goal of increasing selection, the company is adding a new line of winter socks, including wool boot socks, a good addition to the steel toe thermal workboot socks already in stock. Most socks sell for $10 wholesale per dozen pair, the minimum quantity required of Alabama Wholesale Sock customers. But some socks sell as low as $3 or $4 per dozen wholesale. "No matter the price, retailers can expect a 100 to 200 percent markup," says Evans. Well aware that the trend for American made products is on the rise, Evans is happy to report he has what his customers need, both in products and service.
Originally known as Double J's Apparel when it opened its doors in 2006, Rose Fashion Wholesale plans on making a comeback in 2012, after a few years of rebranding and remarketing. And while traditionally known for its ladies tops, including spandex styles adorned with rhinestones, jewelry and other accessories, the wholesaler boasts on its website of specializing in a complete line of ladies apparel. Rose Fashion Wholesale now offers a growing line of mini dresses, sporting a little sex appeal and great for an evening at the club, as well as jeans, leggings, and the all time favorite combination, jeggings.
Owner, Luisa Bautista, is busy working to accomplish her new year's resolution of adding more variety to the company website. "It's all about giving my customers nice merchandise and a vast selection," she says. Currently, customers aren't required to fulfill a minimum order and can order different styles to test in their markets. For any order that does meet a $200 price point, however, Bautista is willing to pay for shipping. Sample packs are also available starting at $100. "We are conveniently located in the City of Los Angeles, and we do same day shipping on all our first quality apparel," notes Bautista.
Second on Rose Fashion Wholesale's To Do list for the year is to launch a fresh, new advertising campaign. "We just started amping up our print advertising and have already received some great feedback and leads," says Bautista. With confidence, Bautista states business is sure to pick up, and with new inventory on the site frequently, customers will get the variety they are looking for. Customers are welcomed to browse the online store or select a style, get the style number and contact the wholesaler directly.
Mohawk Sports, doing business as Animal Hat Shop, plans to take the market by storm in 2012, offering one-of-a-kind animal hats and other handmade headware. And while some customers may question how unique these animal hats can be, as there is an overwhelming number of bears, frogs, dogs and other zoo friends walking among the public this year, VP of sales and marketing, JC Cruz, speaks to the handmade manufacturing of each individual hat. "Our products are not mass produced in China like other companies. Our items are handmade in Nepal. Being handmade, each hat will offer slight differences in texture, embroidery, colors and more," he says. "It is a lifetime goal of this company to maintain a level of creativity, low cost, and most importantly, a product that is only offered to independent and small businesses."
In the industry to help his independent customers, Cruz says the average wholesale price for Animal Hat Shop's hats is $8, which is easily tripled, retailing for $25 or more. With a minimum order of 24 hats that can be mixed and matched, the wholesaler offers a wide selection without requiring a huge commitment. "But if there are customers looking to purchase in higher quantities, Animal Hat Shop is willing to discuss lower pricing," adds Cruz.
While hats may seem seasonal, they can easily be made into year round fun, especially when a hat manufacturer and wholesaler like Animal Hat Shop offers custom made hats for school mascots. "We also do well in a broad range of retail shops and kiosks, and find time to feature our headware even at pumpkin festivals or New York's Christmas in the Park," notes Cruz. The hats are made to fit all, but it is apparent that certain styles have found a niche with particular age groups. Cruz says he notices the animal hats are most popular among the age group of 8 to 18 year olds, while the company's Mohawk headware attracts college students. The beanies offer something for the more mature or conservative crowd. With such a broad range of hat wearers, it is Animal Hat Shop's goal to maintain a high level of quality and honesty year round. "Quite often I see customers complain about the products they get, because they were not given what they were sold. Not at Animal Hat Shop," says Cruz.
For an apparel wholesaler faced with the challenges of increased fuel costs and raw material prices, Cotton Connection continues to offer competitive pricing. "We can meet or beat any published price," says Ibrahim Kothawala, director of operations, "and it is our new year's resolution to continue doing so." A wholesaler of activewear in Chicago and the Midwest, Cotton Connection began in 1980 on the north side of Chicago and quickly expanded. Now the company sells to independent retailers, screen printers, embroiderers and even entrepreneurs trying to create their own brand. As a distributor of Fruit of the Loom, Gildan and Jerzees brands, the company looks to maintain its mission of providing the best quality and selection of name brand wholesale products, with outstanding service and value. It does so by offering items as low as $0.50 to $10 or $12 wholesale. For even better customer satisfaction in 2012, the wholesaler is also bringing back an old, well-known label, Cotton Plus.
And while Cotton Connection has attracted a customer base because of low priced, high quality brand name products, the company also imports non-brand label activewear, ranging from tube socks to big and tall T-shirts. "Our best sellers are always changing, as apparel changes each season," says Kothawala. While customers may be clamoring for hooded pullover sweatshirts in the cold winter months, polo shirts will be in high demand when golfing season begins again. "This winter our thermal top and bottom sets have been popular, along with our Gildan brand socks," notes Kothawala. The constant change in trends requires Cotton Connection to frequently change its specials and evaluate goals, which many times include marketing and inventory management.
The company frequently runs sales promotions. Every visit to the website reveals a special deal, including closeouts, weekly specials and much more. "The best way to learn about Cotton Connection and its products is through our intuitive website," adds Kothawala. "We plan on improving the website in March, providing as close to possible real time inventory." Customers can browse merchandise categories, check stock availability, as well as place orders. The most accurate way to find real time pricing is via the company website, with a registered login. Retailers are presented with dozen pricing and case pricing. "We try to remain consistent with our pricing. We can match any legitimate price, published or special bid for large quantity orders, offered by any of our competitors on any item that we carry and have in stock," says Kothawala.
BOC Ventures LLC, holder of the patent for the Necky™ winter accessory, is newer to the apparel industry and full of goals and resolutions, not only for its first full year on the market, but also for its hopeful future. While seemingly a marketable item for the colder months, the Necky Scarf is a great gift item year round, that can be put to use on any cold or blustery day. It was co-owner, Paul Boccardi, who had the idea and goal to bring to market an item that was both fashionable and functional, for those people tired of bulky scarves. As for 2012, BOC Ventures has committed to a resolution of expansion. "With people still looking for affordable alternatives to what is currently offered, as well as a good investment in a practical item, the Necky Scarf is sure to find a growing market." The Necky Scarf is warm without the weight and bulk of traditional scarves and therefore can find many applications: skiers, commuters, outdoor workers, sports enthusiasts, and golfers who would like to extend their season. "If you own a pair of gloves and a hat you should own a Necky™," notes Boccardi.
As for fashionable and functional, an online testimonial at www.neckyscarf.com says it short and sweet: "Neat, attractive and warm. Great holiday gift!" Made of high quality fleece, the Necky™ is naturally resistant to water, lightweight and breathable. It is worn by securing the hook and loop fasteners behind your neck, making it adjustable and easy for kids, while keeping your hairstyle in place. Other highlighted features include the front chest piece, which can be neatly tucked inside any coat and provides complete seamless coverage of chest and neck, as well as the face, with a foldable collar. For those people who like to bring accessories such as their phone or iPod while on the go, the Necky also provides a secured pocket to hold these items.
Wholesaling for under $10, retailers can expect to make keystone at a retail price of $19.95. A great gift for all adults and kids, the Necky comes in five colors, with adult and children's sizes. The product is currently offered in color packs of 12, with a mix and match of all five colors. A minimum order of two 12 packs in each size is recommended.
Staying ahead of trends, or simply convincing customers to purchase another item is hard, but with determination and goal setting, wholesalers and retailers alike can profit in the fast paced apparel industry. Many times it isn't solely the apparel product the makes the sale, but also customer service, packaging, and selection. Setting goals for all aspects of your business can set you apart from the competition.
For more information:
Kerusso, Inc.
402 Highway 62 Spur
Berryville, AR 72616
Toll Free: 800-424-0943
Website: www.kerusso.com
Alabama Wholesale Socks
158 Industrial Dr.
Sylvania, AL 35988
Toll Free: 866-617-6257
Tel.: 256-845-4411
Rose Fashion Wholesale
Los Angeles, CA 90031
Tel.: 323-223-8891
Website: www.doublejsapparel.com
Animal Hat Shop
82 S. Montgomery Street
San Jose, CA, 95110
Tel.: 408-286-2100, 408-216-9425
Website: www.animalhatshop.com
Cotton Connection
4850 S. Kilbourn Ave.
Chicago, IL 60632
Toll Free: 800-635-1104
Tel.: 773-523-0505
Website: www.cottonconnection.com
BOC Ventures LLC dba Necky Scarf
Tel.: 203-669-9919
Website: www.neckyscarf.com