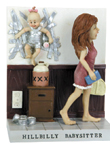 Opportunity Buys, Inc., while proving to be a seasoned professional in sales, is still a young competitor in the general merchandise wholesale industry, with a little under 20 years in the business. However, the wholesaler continues to gain recognition because of its experienced staff, merchandise selection and smart business choices, including the strategic decision to expand its role and reach in the wholesale industry. Opportunity Buys, taking on the roles of importer and designer of goods in addition to being a supplier, has now ensured an even greater reach with the acquisition of giftware supplier, Trippies.
Trippies Merchandise to be Showcased at ASD by Opportunity Buys
Trippies' polyresin giftware and Opportunity Buys' large variety of general merchandise are a perfect complement to one another. True to its name, Opportunity Buys offers an extensive opportunity and range of products for retailers to buy and make the sales they need. Along with Opportunity Buys' best sellers in oil warmers and home décor, the company is bringing back Trippies' top lines, including Down on the Farm, Down in the Holler, Comical Hunter and more.
At the ASD Las Vegas show in March, Opportunity Buys will be showcasing Trippies' Down on the Farm line and other country gifts including Opportunity Buys' metal stars, wooden plaques and candle warmers. "In the Down on the Farm line we brought back some of Trippies best sellers, including the Shelf Sitting Rooster, Farmer and Plow, and the Hen Salt and Pepper Shaker Set," highlights Tim Chocklett, president of Opportunity Buys. "We've also expanded the line with new items such as the Comical Bobbing Farm Animals and the Rooster Mug Set." Perfect for today's gift market, all items wholesale for under $20, with a varying retail cost dependent on the retail market.
While there used to be a minimum order, Chocklett mentions there is no longer a need for one, as the average order is now over $500. "Customers can mix and match their order, selecting from our many merchandise categories. They also benefit from placing a large order, as the larger the order, the lower the freight," he notes. Chocklett invites retailers to visit the company website to see the new offers, saying, "View these great items now and order today. They are moving quickly."
For more information:
Opportunity Buys, Inc.
1515 Brookville Crossing Way
Indianapolis, IN 46239
Toll Free: 800-894-2816
Tel.: 317-353-6684
Website: www.obiwholesale.com