By Nicole Leinbach Reyhle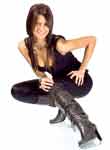 The runways of Milan, New York and London are a far cry from the local main streets across America. Yet for every oversized coat or richly embellished dress seen center stage, there are mainstream counterparts to look forward to in fall 2013. How you take these looks from the runway to your local consumer audience is what really matters.
Translating trends
Many fall 2013 trends will be familiar to retailers and consumers alike, but do not worry. While some looks will be common staples in customers' wardrobes, they come with modern updates that will have customers looking to buy. From embroidered jackets to quilted skirts, there is a lot to get excited about with the arrival of fall fashions in your stores. The big surprise among these familiar designs, however, is how they differ from seasons past. If you are expecting blah and boring, think again. This fall, it is all about bold statements among popular staples in fashion. From runways to real life, discover what is most likely to attract a buying audience within your store.
The Quilted Miniskirt:
Seen in A-line, zippered and straight styles, the quilted miniskirt translates well to all age groups. Simply order different hemlines to cater to your target market. A big perk is that these styles scream add-on-sales, since they demand accessories such as tights, leggings or belts.
V-Neck Sweaters:
Nothing says "layer me" like a great v-neck sweater. For retailers, these classic staples are a great must-have for both men and women. The twist? Offer them in standout prints or leather, and be sure to layer them to increase add-on sales and style appeal.
Leopard Prints:
We have seen leopard done before, a lot. What makes this season's leopard styles stand out are their modern stamps on these classic motifs. Shown head to toe by DKNY and other designers, leopard in bigger, bolder patterns and against pops of color tend to be favored for fall 2013.
Colored Fur:
It may be hard to believe that fur, not to mention colored fur, will appeal to the masses, but the runways of Fashion Week suggest just that for fall. One way to translate this expensive and sometimes controversial look is to offer faux fur. Accessories are a great way to bring this into your stores without committing to more pricey wardrobe pieces.
Black & White:
When it comes to fashion, you cannot get more classic than black and white, and retailers can look forward this fall to fashion's chicest pairing making some major fashion statements. While not particularly trendy, it is an easy way to appeal to an array of consumers. Plus, it allows retailers to offer updates to customers by pairing something new with something already in their wardrobes. After all, most consumers own at least one item that is black or white.
Knee-High Boots:
Previous fall and winter seasons have shown preference to booties or mid-calf boots. This fall, however, customers can get excited about knee-high boots again. While they have never really gone out of style, fall 2013 delivers new shapes, silhouettes and styles to get customers in the mood for buying updated boots to accompany their refreshed wardrobes.
Pink:
When you think of pink, it is likely you do not think of fall. However, this feminine shade made an appearance on countless runways during Fashion Week, with approaches both subtle and bold. Used as an accent color or on its own, pink is very wearable in consumer friendly styles such as denim, scarves and basic sportswear.
Luxe Sweatshirts:
Past seasons have embraced sweatshirts as style pieces, and this fall is no exception. Designers from Rebecca Minkoff to Blugirl have welcomed this garment into their fall collections, and customers will as well. Paired with everyday jeans or dressed up with trousers, this look does not seem to be going anywhere. Singular prints vs. all over patterns stand out in this style.
Winter White:
The old saying, "no white after Labor Day," clearly means nothing in the world of fashion. Both elegant and stylish, winter white made a huge splash on the runways, and we are predicting it will do the same in stores. Creams, ivories and winter white can be expected to be huge hits with all generations and demographics.
Jeweled Jackets:
Whether flecked with tiny jewels or covered in bold, blingy stones, jackets are being shown with modern embellishments. A perfect update to classic coat silhouettes, jeweled jackets will capture customers' attention with their fresh and flashy approach to staying warm.
Palettes and pearls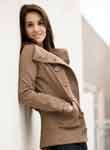 It would not feel like a new season without a shift in color and accessory trends. Pantone's Fashion Color Report for fall 2013 indicates that retailers will lean on a diverse palette to freshen up their store displays and inventory. Emerald, a multifaceted color that delivers a look of elegance and fun, is one of the most exciting colors for fall.  Paired with Mykonos blue, linden green, Koi, or a bold orange, emerald has some beautiful, rich complimentary colors this season. For those retailers that prefer muted colors, try a more lush and natural shade of green, such as deep lichen, or a dark gray. As fall turns into winter, Carafe, a glamorous brown, will make an appearance among fashion styles.
Carrie Crawford, senior account executive for Calvin Klein Footwear at Jimlar Corporation, shared her excitement for color used in fashion this fall, identifying some favorite styles. "Black and bone color combos will take a front seat on store shelves, with Bordeux, purple and olive as pop colors among accessories in particular. You can also expect to see the return of pumps in general, replacing the platform chunky heel," states Crawford.
From pointy toes to classic color combos, customers will also be on the lookout for pearls this season. Whether embellished on clothing or used in accessories, this jewelry staple will show up on belts, handbags, apparel and more. To accompany the many feminine looks that hit the runways, expect a harsher, bolder look of overly stated accessories and apparel, particularly among footwear and necklaces.
Mass appeal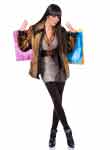 While trends for fall lean on classic silhouettes, embellished designs and vibrant colors, it is the modern updates they deliver that will keep your store fresh and customers excited. Patrons who prefer a more classic approach will be in luck this year as well, with some of the season's trends weighing heavily on tried and true fashion statements. As for your store's approach to delivering the best fall styles, remember that no matter what the runways tell us, it is your customers' buying patterns that ultimately matter. Incorporate what you have identified as popular sellers in your store, while also introducing a mix of new fall fashions to keep your store competitive, busy and profitable.