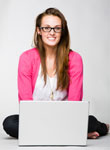 The deadline for high school seniors to apply for the National Federation of Independent Business (NFIB) Young Entrepreneur Foundation scholarships is January 6, 2014. Each year, the NFIB Young Entrepreneur program offers non-renewable scholarships that recognize young people who have demonstrated entrepreneurial spirit and initiative with college scholarships ranging in value from $1,000 to $10,000. The program was established to raise awareness among the nation's youth of the critical role that private enterprise and entrepreneurship play in the building of America.
Applicants for the NFIB Young Entrepreneur Awards must be graduating high school seniors who are entering their freshman year at an accredited two- or four-year university, college, technical or vocational institute in the fall of 2014. They must also demonstrate entrepreneurial spirit and initiative by having established a business of their own.
The independent selection committee will review all applications and select semi-finalists based on merit. Semi-finalists will be notified by the end of January, and must be interviewed by an NFIB member, who will be assigned to each semi-finalist. Award recipients are selected by an independent scholarship organization.
The NFIB Young Entrepreneur Foundation is committed to educating young people about the critical role of small business and the American free enterprise system. Since 2003, the NFIB Young Entrepreneur Foundation has awarded more than 2,400 scholarships to graduating high school seniors totaling more than $2.6 million. For more information about the YEF scholarship program and past recipients, visit www.nfib.com/yea.