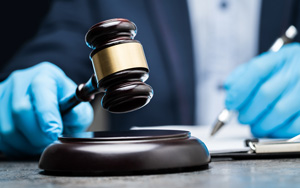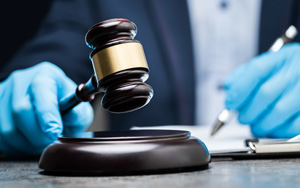 by Jeffrey H. Ruzal
Retailers around the country are eager to re-open after the lengthy and debilitating COVID-19 shutdowns. However, it is not as easy as simply throwing open ones doors to the waiting throngs of consumers who have likewise been shut-in, desperately yearning for brick-and-mortar shopping. Safety is paramount for both businesses and the consuming public. Social distancing, maximum occupancy, one-way flow, and temperature checks are just some of the safety protocols retailers are considering and implementing as part of their plans to reopen.
Before reopening, retail employers must be vigilant to ensure compliance with state and local laws, as each state, and perhaps even local jurisdiction, maintains different required safety protocols. Retail employers must also be mindful of federal and state wage and hour laws before implementing temperature screenings for employees, as employers may be required to pay their workers for the time they spend waiting and submitting for temperature screenings.
FLSA
The federal Fair Labor Standards Act ("FLSA") provides that "the principal activity or activities which an employee is employed to perform," is compensable, including tasks completed outside a regularly scheduled shift that are an "integral and indispensable" part of the "principal activities." 29 U.S.C. § 254(a)(1), IBP, Inc. v. Alvarez, 546 U.S. 21, 30 (2005). Principal activities are those the employee is "employed to perform" and "include any work … performed for an employer, no matter when the work is performed." 29 C.F.R. § 790.8.
What is Compensable?
The FLSA does not, however, require compensation for time spent on activities which are "preliminary or postliminary to" an employee's principal activities. 29 U.S.C. § 254(a)(2). An activity is "integral and indispensable" within the meaning of the FLSA "if it is an intrinsic element of the [employee's principal] activities and one with which the employee cannot dispense if he is to perform his principal activities." Integrity Staffing Sols., Inc. v. Busk, 547 U.S. 27, 33 (2014).
While this is a fact-dependent analysis, courts have determined that certain activities will satisfy this standard, and are thus compensable (i) if the activity is required and is for the employer's benefit; (ii) if undertaken to prepare for the performance of the principal activities; or (iii) if intended to protect the employee against unusual workplace dangers. Perez v. City of New York, 832 F.3d 120, 124 (2d Cir. 2016).
In contrast, standard pre- and post-shift security procedures that are not related to employees' principal activities are not considered compensable time under the FLSA. In Integrity Staffing Solutions, the Supreme Court held that Amazon's post-shift anti-theft employee screenings were neither a principal activity nor integral and indispensable to the retrieving or packaging of Amazon's products. 547 U.S. 27 at 34.
Integrity Staffing Solutions notwithstanding, federal and state laws may differ on whether or not employee security screening time is compensable. For instance, earlier this year, the California Supreme Court held that an employer must pay employees for time spent waiting and undergoing required exit searches of their personal items and devices, reasoning that such searches primarily serve the employer's interests (i.e., to detect and deter theft) and are highly controlled by the employer (employees must take specific movements and actions during the searches). See Frlekin v. Apple, Inc., 457 P.3d 526 (Cal. 2020). Other jurisdictions, including Pennsylvania and New Jersey, are expected to address this issue as well.
Accessing Danger
Workplace temperature checks could be found to constitute a pre-shift activity to protect against a heightened workplace danger or an activity undertaken for the employer's benefit, though it does not appear that courts or the U.S. Department of Labor have considered this specific activity.
When assessing potential "heightened workplace dangers," courts have historically considered employees who are themselves at potential risk on account of the job they are required to perform. While COVID-19 does not necessarily present the same type of inherent danger, it arguably presents a safety risk for co-workers and the consuming public who could be potentially exposed to the life-threatening virus.
Mandating temperature screening to help avoid spread may be similar to requiring employees to don protective gear at the workplace, as both are employer-imposed prerequisites intended to protect the workforce. However, because the potentially unsafe working conditions here are not a direct byproduct of the work performed by the employees, i.e., the risk of contracting COVID-19 is not inherent in or isolated to the workplace but rather is a risk common to the public at large that can affect anyone, whether at work or not, courts might not consider temperature checks to reach the extent of criticality to an employee's principal activities such as they did in Steiner or Alvarez.
State Requirements
Also potentially relevant is that many employers are implementing temperature checks due to state and local recommendations, and, in some cases, requirements. In Bonilla v. Baker Concrete Const. Inc., the Eleventh Circuit Court of Appeals held that time spent by construction workers going through security screening on their way to the work site inside an airport was not compensable under the FLSA in large part because the screening was required by the FAA, and the employer "did not primarily—or even particularly—benefit from the [FAA-required] security regime." 487 F.3d 1340, 1344 (11th Cir. 2007). Based on this reasoning, courts may conclude that even employers that voluntarily temperature screen employees need not compensate non-exempt employees for such time because the screening protocol is aimed at preventing the further spread of the disease for the sake of employees, their families, and the general public, whereas any benefit to an employer is arguably incidental.
Viewed another way, however, an employer's implementation of health checks might be considered integral and indispensable because the risk of exposure to a highly contagious and potentially-fatal virus is not an ordinary risk of employment. The bottom line is that there is no clear answer at the moment. Because this is a novel issue that has not yet been settled, retail employers looking to avoid risk should strongly consider paying non-exempt retail associates for temperature checks.