by Lisa Evans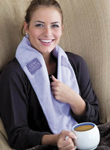 For retailers interested in personal care products, the growing popularity of aromatherapy merchandise is a not-to-be-missed sales opportunity. At New Day Christian Distributors, owner Jere Miller is enthusiastic about his fast-selling line of aroma therapy wraps and related essential oils. Known primarily for their huge array of music and entertainment products, New Day first became involved in aromatherapy products as a result of a long standing relationship with one of their retail clients. "I had a store in North Carolina that was interested in aroma wraps, so I got them for him, initially. Once he had them, he sold out right away, and called back to order more. He also told us that his customers were coming to him to buy the oils separately from the wraps, so we started to carry all of them, and it's been great," Miller explains.
Miller's product line includes the Inspiration Collection, a Christian-themed array of aroma therapy wraps that are microwavable and freezable, for use in a variety of soothing or healing treatments. Each fleece-like wrap contains two pockets into which an essential oil coated cotton round is placed, with the wrap draped around the user's neck for better aroma inhalation. The wraps are designed with a unique multi-section quilted design to maintain either heat or cold in a uniform manner for the wearer's maximum comfort. Each wrap carries an inspirational verse of Scripture on the aroma pockets as an added feature.
Available in black, lavender, or mint green, the wraps may be ordered in individual units, each with a sample bottle of an essential oil included in the packaging. The wraps sell wholesale for $15 each, with a suggested retail price of $29.95.
The wrap's manufacturer also goes a step further in their inspirational theme. Every wrap includes a small card announcing that a donation will be made to outofdarkness.org with every wrap purchased. This organization is a Christian non-profit group dedicated to stopping human sex trafficking and to supporting the victims of commercial sexual exploitation. As a testament to their mission and their faith, this organization's aim is to spread their message and provide healing in every way possible.

Additionally, New Day Christian carries a full line of healing aromatherapy oils sourced from across the globe. Retailers may choose from clove bud, used as a tooth ache remedy and for digestive system support, eucalyptus oil for bronchitis as a decongestant, increasing energy, and for joint & muscle pain, or lavender, commonly used for calming, wound healing, and general skin care. Also available are the citrus scents of lemon for uplifting your mood or detoxing, pink grapefruit for headache relief and appetite suppression, and sweet orange, which is commonly used as a gentle stimulant, or to help support the digestive system. Spicier aromas are also at the ready, including citronella, known for its use as a natural insect repellant and deodorant, lemongrass, frequently used as a mild sedative, peppermint, a well-known natural energizer, and heartburn reliever, and tea tree oil, used world-wide for dandruff control and as a skin treatment for acne and blemishes. Each 0.5 full oz bottle retails for $9.99 with a wholesale price of just $5 per bottle. Also available in a popular three-pack of lavender, eucalyptus and peppermint oil, the three pack retails for $29.95 and wholesales for $15.00.
New Day Christian offers buyers a quick turn around on all orders, with no order minimums. Available to retailers now, simply visit the New Day website and search for 'essential oils,' or call their toll free number to order your supply of these hot sellers.