By Lisa Evans
Stroll through the charming New England village of Bethel, CT and you'll very soon catch sight of the cheery store windows arranged by Kim Ramsey, owner of The Toy Room, an independent retailer offering toys and games for infants, girls and boys. Celebrating their 10th anniversary in business in 2016, Ramsey's store is a magnet to families of all stripes and a mainstay in the town's local merchant scene.
Even prior to founding her store, Ramsey had retail on her mind. "I had always wanted to open my own store. I don't know if I ever really knew what kind of a store I'd want to have, but then one day I said to my husband, Chris, 'I know – I think I'll open a TOY store.' He said, 'where did that come from?" and I said, 'I don't know, but it sure sounds like fun, doesn't it?" she laughingly recounts. In fact, Ramsey's retail dreams reached further back than even she remembered. "A friend's mom, a friend from back in 3rd grade, her mom recently reminded me that her daughter and I used to play outside, setting up a store out in the back yard and we'd be out there for hours playing store." She continues, "I didn't remember having done that, but evidently, I've had it in my mind to have a store for longer than I even realized."
Launched in 2006, The Toy Room began its retail life in a small nearby location, but moved to their current space in 2008, in the teeth of the recession. "Our lease ended and this space, right here in the town center, presented itself. It was, in hindsight, maybe a risky thing to do because the economy was tanking. The timing wasn't the best, but here we were expanding," Ramsey remembers. "As moves go, it was right across the street, but now we were much more visible and less tucked away where people might not have found us before. At the time, I figured the pay-off would be that we'd be more visible, and in the long run, I think it really was a good thing. I think we were able to stay in business through the worst of the economic crisis because we are so visible. If we had stayed in our first location, tucked away, I don't think the sales would have been there. We wouldn't have made it."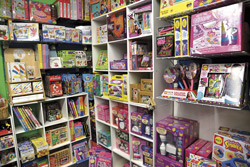 The Toy Room has earned a golden reputation among the village's kids – and parents alike. Known as the 'go-to' location for finding unique gifts and games, Ramsey explains how she developed what she calls her concierge service. "It kind of started with one person calling me and saying, "I have a weird question for you…" Ramsey smilingly remembers. "They said something like, 'if I were to ask you to pick out a gift, could you wrap it and have it ready for me to pick up later and I can give you my credit card number?'
"I have to say, those are may favorite calls," Ramsey laughs, "I take the card number, ask who the gift is for, the age of the child, boy or a girl, and then it's ready when they need it. I'm the gift concierge. It's funny – it all started with a couple of people. And you know, the first few people obviously told other people, it all spread through word of mouth. It didn't take much time at all before I started getting calls from people saying 'my friend told me I should give you a call…' so it really was the customers who started it and got it all going. And fun for me, it's really taken off." Ramsey also uses social media to boost her store sales, frequently posting pictures of newly arrived products and special deals to the store's Facebook and Instagram accounts. Many area residents are able to interact with the store online, emailing or posting to reserve or advance order a particular hot item, like a recent run on a physics scientific kit needed by 7th grade middle school students.
In fact, The Toy Room's reputation for fantastic service is just one of the store's charms. Ramsey is a firm believer in supporting local business, frequently sourcing her toys and gift items from her fellow Connecticut –based manufacturers and game developers. "I know I can't compete with the big guys so I make a point of looking for local things, and carrying them," she states. "It's great when I can find a high quality product that's made right here – it's a win-win for all of us. Sometimes it falls into your lap, which is great, sometimes you have a to dig a little, but it's worth it."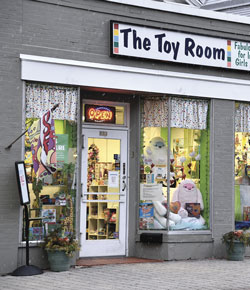 An active member of the local Chamber of Commerce since the store first opened its doors, Ramsey participates in many town sponsored events and charitable works, all with an aim to supporting the Buy Local movement. "I think it's a challenge, sometimes, to get people to want to shop local. Product and service wise, we local merchants are much better than the big box stores, we know it. Once you get people in the doors, they know it, too, but the challenge is just breaking through. It's getting people to realize that it really is important to shop the downtown stores and maintain the community. We have to keep trying."
Participating in events like the annual Summertime Where's Waldo seek-and-find challenge, the Scotty Fund, a local picnic raising funds for a town-wide family charitable trust, and routinely acting as a sponsor for multiple school and community related fundraisers, Ramsey's heart is in her business and in her community. The Bethel Chamber of Commerce launched a new website in the past months, focused on promoting events and information on local businesses. "That's helping a lot to make sure everyone knows what we're doing." Ramsey offers, "I think that's the turning point – getting the information out across the whole town. That is making an impact."
When asked what she's most proud of in her ten years of local retailing, Ramsey doesn't miss a beat. "I'm still here after ten years," she laughs, "I've been able to survive. And I still love it as much after ten years as I did when I first started. I'm still just as happy now as I was then. I really do love it."