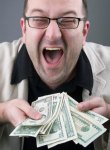 Confidence among U.S. consumers rose in February to the highest level in three years as Americans became more optimistic about their incomes and the economy, the Conference Board reports. The Board's index of sentiment increased to 70.4, the highest since February 2008, from 64.8 the prior month, figures from the New York-based private research group show. Economists had projected the gauge would be little changed at 65.5, according to the median forecast in a Bloomberg News survey.
A pickup in optimism and job gains may encourage Americans to increase purchases, boosting consumer spending, which is the biggest part of the U.S. economy. Still, an ongoing unemployment rate of 9 percent or more and mounting home foreclosures threaten to restrain the exuberance.
"The consumer believes that growth is picking up pace," Jonathan Basile, senior economist at Credit Suisse in New York, told Bloomberg.com. "The ducks are in a row for stronger consumer spending this year." Americans stepped up their purchases in the final three months of 2010, as consumer spending grew at a 4.4 percent annual pace, the fastest since the last quarter of 2004, according to a recent Commerce Department report.
For the full story, as well as news of tax cuts and who's hiring, click HERE.