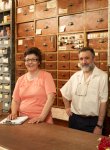 The National Retail Federation has released its 2011 economic forecast, projecting retail industry sales will increase 4 percent from 2010. The cautiously optimistic outlook, which exclude automobiles, gas stations, and restaurants, comes on the heels of seven consecutive months of retail sales growth and better than expected holiday sales.
With retailers ending last year on a strong note, thanks to robust holiday spending figures, the prospects for economic growth are starting to look better. However, with small businesses continuing to hold back on hiring and expansion plans and consumers facing higher energy costs, questions remain about the speed and strength of the retail spending momentum.
"With retailers leading the charge, the economic recovery appears to be gaining some steam," NRF President and CEO Matthew Shay said in a statement. "The fate of the Main Street resurgence ultimately rests with policymakers on Capitol Hill. As Congress begins tackling key issues like deficit reduction and tax reform, it is critical we support policies that encourage job creation, consumption and business investment."
The full story from the NRF begins HERE.