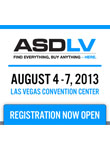 The ASD Las Vegas trade show, now in its 53rd year, will be held August 4-7 at the Las Vegas Convention Center. More than 2,800 exhibitors and 45,000 attendees are expected to attend, says Karla Villalobos, audience marketing manager. August temperatures average over 100 degrees in the entertainment capital of the world, and the show is heating up in more ways than one. Villalobos shares some exciting news about the popular August event.
ASD Las Vegas show attendees will find a broad array of merchandise in six categories: Gift & Home, Fashion Accessories, Jewelry / Cash & Carry, Health & Beauty, Value & Variety, and Toys & Novelties. It all kicks off opening night with a party at the Hard Rock Café, where the band, Phoenix, will be performing. "They do a lot of 80s cover band music and are very popular," Villalobos notes. "They performed at our 50th anniversary party and were a huge hit."
On Monday, August 5th, ASD will be hosting a cocktail party for new buyers by invitation only. "ASD can be a bit overwhelming, so this is our way of offering them an opportunity to network and connect with other buyers and ASD staff," Villalobos says. "We will be there to answer any questions and help in any way possible.
New to ASD Las Vegas is SOURCEDIRECT, a comprehensive sourcing show. More than 250 manufacturers from countries such as China, India, Republic of Korea, Africa and Mexico will be displaying merchandise. "Exhibitors and bigger stores will benefit from SOURCEDIRECT because they can buy large quantities without traveling to China and other countries to get their products," Villalobos explains.
ASD's gourmet section continues to grow, she continues. "We launched it in March, and companies like ChocolatRouge and Russell Stover Candies did very well. For August we have even more gourmet companies, including Jelly Belly, which is huge."
ASD has created a true destination for Smoking and Counter Culture lifestyles by re-designing the Smoking Accessories section. This will include the debut of an outdoor smoking section for product sampling and a new destination lounge on the show floor, featuring music, beer and cocktails.
J.R. Palacios, a family business that wholesales hats, leather belts, buckles and other western accessories, has been attending the ASD trade show since the late 1980s. "Our presence at the show makes a lot of customers aware of our products," states Jesus Palacios, marketing manager. "It is always a successful show for us, whether we get new customers or meet existing ones. Every year it seems we do more and more business at the show. Even when the recession hit, we were as successful as any other year. The show seems to be recession proof." This year, J.R. Palacios' booth will feature Wild Bill and Texas Gold hats, as well as belts. "Our belts are 100 percent leather, which a lot of consumers prefer over imitation materials," Palacios reports. The company will be located in the Health & Beauty section of the show.
SJT Enterprises, a wholesaler of novelty and giftware items, has been attending ASD Las Vegas for 20 years. "The show is a good place to connect with existing customers and put a face with a voice," says Tim Smith, owner. "We also enjoy the opportunity to meet prospective buyers. Of the eight or nine shows we attend each year, the ASD shows are the biggest." One of SJT Enterprises' best-selling product lines is its wooden decorative plaques, and the company will be introducing new plaques at ASD. "They are more upscale, yet very affordable," Smith points out. They feature animals, sports and clever sayings. "We are also introducing several styles of contemporary art, including a line of panoramic city skylines. We are partnering with a well-known photographer who has photos of many recognizable cities, such as Chicago, Miami and Las Vegas." SJT Enterprises will be offering free shipping and additional discounts at the show. The company can be found at booth #SL1003.
First Card Company, a manufacturer of plastic and paperboard display cards, string tags, folding boxes, labels and other packaging solutions for the fashion accessory industry, has been exhibiting at ASD Las Vegas for nearly a decade. "It is a little more exciting each time we go," Joe Brooks, general manager, remarks. "We attend because we get to see a lot of people that we would not normally see, being that our company is in Rhode Island. People come from all over the world to attend the show. It is easy to get to. First Card will be offering several items, including new, inexpensive pre-fold boxes. "They are rather nice for smaller products, such as necklaces and earrings." First Card will be exhibiting at booth #C1928.
Bob James, vice president of Hi-Dow, says his company has been exhibiting at ASD Las Vegas for seven years. "We go to the show because it is a large event with many motivated buyers and potential new accounts." The company will be presenting its line of electronic muscle stimulators. "Our devices replicate the treatment consumers get from a physical therapist or chiropractor. Electro gel pads emit electrical pulses to target and  stimulate muscles. Our products help relieve pain and improve muscle performance," James explains. Hi-Dow will be offering discounts on regular wholesale rates, as well as sample merchandise.
Jacob's Paradise, Inc. is another long-time exhibitor at ASD Las Vegas. Luis Arce, president, attends the trade show to get new leads. "ASD gives us a lot of exposure to a wide market." The company's products appeal to a wide range of buyers, as it carries more than 1,000 products in the novelty, souvenir and general merchandise categories. One of its more popular lines is the diversion safe, a product that looks like a common household item but is actually a small safe for storing valuables. The Jacob's Paradise booth will also feature its expanded line of Rasta merchandise. These crocheted, brightly colored accessories are imported from Peru and Guatemala. "We have hats, handbags, coin purses and backpacks. This is a very popular line," Arce shares. The company will offer show specials, including free freight on orders of $1,000 or more. Jacob's Paradise will be located in the Convenience Store section of the hall.
Where to buy: