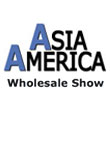 ASIA AMERICA Trade Show Miami is expanding to two shows each year. Now in its fifth year, the wholesale trade show will be held in the spring, April 8-10, 2014, and in the fall, September 8-10, 2014, at the Miami Beach Convention Center. The B2B wholesale U.S. domestic and international multi-product trade show brings in buyers from 43 countries from the Caribbean, Latin America and the U.S.
Hosting more than 8,000 multi-product buyers, the event enables importers, retailers and distributors to make new contacts and write orders. Buyers will find over 150,000 products from Asia, America & Worldwide at each show.
Known as the "Show to go to" by many Caribbean, Central and South American, and Southeast U.S. buyers, the event is a one-stop shop for high, medium and value products. ASIA AMERICA offers attendees the opportunity to review a huge assortment of general merchandise, apparel, consumer electronics, cellular, souvenirs & gifts, housewares, outdoor, toys, holiday & seasonal, health & beauty, hardware & tools, novelties and more, in one convenient location in the South Beach neighborhood of Miami.
ASIA AMERICA Trade Show Miami
Tel.: 305 262 3200
Website: www.asiaamericatradeshow.com