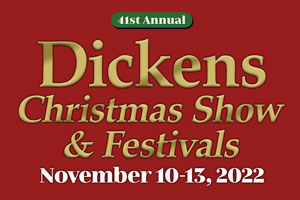 While the spring, summer, and fall months can be great for pop-up markets and festivals, indie retailers should also keep winter events in mind. Not only can they help spread brand awareness, but they can also help to keep sales coming in during the slow season.
Reach New Consumers & Build Lasting Relationships
Taking place from November 10-13, 2022, the Dickens Christmas Show is a unique national award-winning event comprising a multitude of shopping and entertainment options. Against a Victorian Holiday background, over 300 businesses will be setting up and decorating their own tables to sell everything including jewelry, crafts, gifts, toys, art, gourmet foods, holiday decor, and so much more. It is a prime opportunity to grab the attention of shoppers on the hunt for holiday gifts.
"The Dickens Christmas Show is a great place for new businesses to get their name out there, especially smaller and local vendors," Elena King with Leisure Time Unlimited, Inc., producers of the show, said. "We get over 10,000 visitors throughout the four days, which gives vendors plenty of opportunities to get exposure and create future business relationships. The show floor always has heavy foot traffic, so it pays to be super outgoing and not afraid to flaunt your products!"
Taking place at the Myrtle Beach Convention Center in South Carolina, this Victorian Christmas Show is sure to bring in loads of new customers for independent retailers in the area. Even if you are farther away, it is worth a trip in order to capture these hungry customers yearning for holiday treasures. On top of other merchandise sellers, you will get to be alongside other unique businesses, including Strolling Victorian Musicians, Tea Leaf Readers, Punch & Judy Shows, Shadow Box Displays, and more, each lending their own charm to the show.
Exhibitors Come Back Year After Year
According to King, the first show took place 41 years ago and they have seen a steady growth in vendors with each following year. Over 30 percent of the show floor is filled with returning vendors, which proves just how successful this event can be for budding businesses. If you want to see for yourself, just check out the exhibitor testimonials page on their website. Here is what Pat Lam with The Country Lam had to say about the show:
"As experienced crafters of 32 years, we look for first class shows. The Dickens Christmas Show has proven each year to be a first class show and has consistently exceeded our expectations. Each year we look forward to seeing our repeat customers and new ones. We have an amazing show each year due to the hard work Dickens does with Facebook, advertising, community efforts, and hard work. We are always excited to be there in our costumes."
Retailers who are interested in setting up a booth at The Dickens Christmas Show can find more information on their website at www.dickenschristmasshow.com/exhibitor-information, which is also where you can register to exhibit. Below are the event dates:
Thursday, November 10: 9am – 6pm
Friday, November 11: 9am – 8pm
Saturday, November 12: 9am – 6pm
Sunday, November 13: 12pm – 6pm