by Meaghan Brophy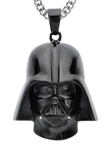 SalesOne, headquartered in Norwalk, CT, has been a major jewelry supplier for over 14 years. Their original brands Body Vibe and INOX body jewelry consist of professional ear plugs, nose studs, labrets, belly rings, and men's and women's alternative metal jewelry respectively. Both brands now distribute to thousands of retailers all over the world. Over the past several years, SalesOne has expanded their brands to include licensed jewelry. They now offer Marvel, DC Comics, Sons of Anarchy, Transformers, Doctor Who, and most notably Star Wars licensed products.
Star Wars: The Force Awakens was released about two months ago, and the hype surrounding it is just as strong as ever. "The response has been tremendous. We knew it was big because of the new movie, the brand is backed by Disney, which is always a home run," says Dennis Moreno, Vice President of Sales for SalesOne International. The popularity of the Star Wars name and the new movie trilogy has led Star Wars licensed products to be SalesOne's biggest seller to date. "Star Wars is our biggest key to worldwide company recognition and branding. To partner with Disney is probably the greatest relationship to have in the world," continues Moreno.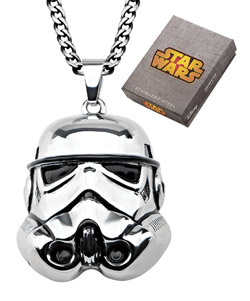 Though licensed jewelry is a profitable and successful business to be a part of, it does take a considerable amount of work. SalesOne designs, manufactures, and packages their own products. This means that every step of the process must be approved by the licensor. "We have a product development team that comes up with designs, then we send them to our licensor at Star Wars for approval. After that, we send the product off to our plant for casting and molding for first run samples. Those samples are then sent back to the licensor for final approval," says Moreno. "Then we go into packaging. It may not sound like much, but the key marketplace today is the brand and the packaging," he explains. Since Star Wars is such a huge brand, they are very protective of their products and what they allow to be produced. Every idea and design does not get approved. "If our team designs one hundred pieces, there are ten to fifteen chosen for approval for us to put in line for Star Wars… these are intricate, finely produced and manufactured jewelry items."
Though their Star Wars line is currently their best seller, SalesOne also carries a variety of professional piercing jewelry, body jewelry, and fashion jewelry for men and women. SalesOne creates products from the ground up based on feedback from customers, and participates in many jewelry events throughout the year to stay on top of the trends. For more information and to view their products, visit www.salesone.org.