By Meaghan Brophy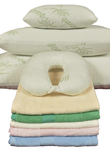 For years, all top quality bedding and bath supplies in China's highest end hotels and boutique stores have been made out of bamboo. Ben Shushan and his partner, founders of Premium Comfort, noticed this trend during a trip to China and decided to introduce these products into the United States. "We didn't even plan to start this company," says Shushan, "But we were inspired during our visit." During his trip, Shushan met with luxury manufacturers, the same ones that supply not only Chinas' high-end hotels, but luxury hotels all over Europe and Asia, to find a way to bring this product to the United States. Three years later, Premium Comfort is a major supplier of pillows, sheets, towels, bedding, and mattress protectors all made out of the highest quality bamboo imported directly from China.
"The secret of bamboo is that it's softer than other materials," explains Shushan. The bamboo pillows are designed to cradle and conform to the body for a better night's sleep. "We receive a lot of compliments from customers who have neck and back problems," continues Shushan. "People end up bringing our pillows everywhere, even when travelling." Bamboo material is moisture wicking and hypoallergenic, so in addition to pillows, bedding and towels are a great option for customers with skin sensitivities. Bamboo is also naturally antimicrobial and deters dust and dust mites, which is beneficial for customers with asthma or allergies.

Premium Comfort's best sellers are their king and queen size pillows. Their products sell best in a variety of retail environments including mall kiosks, gift shops, and online stores. Wholesale prices range from $6 – $12.50 and suggested retail ranges from $19.99 – $79.99. There is no minimum for wholesale orders. Premium Comfort is based out of Florida, and they guarantee that their products are always in stock, so customers can expect a quick turn around. "There are a lot of imitation bamboo products in the market, we only carry top quality," assures Shushan. For more information, visit their website at www.premiumcomfortpillows.com.