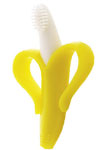 Live-Right Solutions designs and produces a selection of appealing infant-to-toddler gum massaging/toothbrush products. The family owned company launched in 2008 with the original Baby Banana® Teething Training Toothbrush, which was just named Product of the Year by Creative Child Magazine.
Octo-Brush & book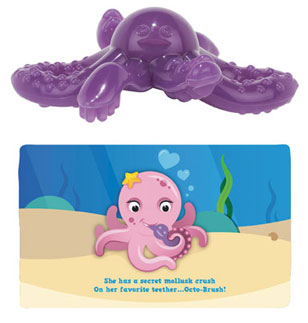 The Octo-brush®, a vivid purple teether and toothbrush in one, is another hot product from Live-Right. Its eight tentacles of different textures, including two that are shaped like a traditional toothbrush, massage and soothe sore gums, and make it easy for small hands to grasp. Live-Right has introduced a children's book for the Octo-brush called Olivia and her Octo-brush. The poem about an Octopus learning to brush her teeth was written by marketing director, Natalee Phillips. Other items include a three pack of animal shaped teethers, a banana shaped teething toothbrush with peel handles for infants, and the bright blue Sharky Brush, with open loops in the tail fin for attaching a binky strap. The company's line of brushing and teething products are made from the highest quality medical grade silicone, which is non-toxic, non-allergenic, soft and bendable. All products are designed by Heather Phillips, a dental hygienist, and patented with registered trademarks.
New in 2014
"We have some exciting things in the works this year," Phillips shares. "We have a fun new style of teether coming out and we are in product development on other infant, toddler and household products, using the silicone." Live-Right's current products wholesale for $4 to $4.50, and retail for $7.99 to $8.49. The minimum order is 12 pieces of one style. Live-Right Solutions will be exhibiting at the American International Toy Fair in New York, February 16-19, in the infant/pre-school area on level one, booth 5549.
Live-Right Solutions
Tel.: 208-233-2392
Website: www.babybananabrush.com