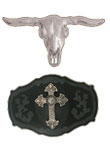 Fashion accessories offer numerous opportunities for sales in almost any retail setting. Today's best sellers include cell phone covers, jewelry, hats and handbags, and are great impulse buys with good profit margins. Indie retailers can see the newest and most popular products from top suppliers at the ASDLV show, March 16-19, at the Las Vegas Convention Center. The following is a brief review of some leading exhibitors.
Reiko Wireless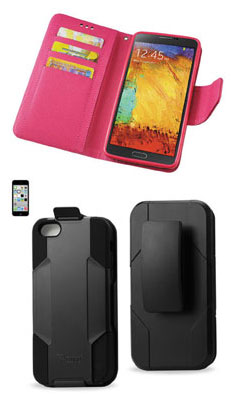 The number of active cell phones will reach 7.3 billion this year, largely attributed to the increasing number of users owning multiple devices. As a result, the demand for cell phone gear continues to rise, and can be a profitable category for retailers. Reiko Wireless Accessories wholesales a slew of cell phone accessories, including cases, covers, pouches, headsets, chargers and screen protectors. One of the hottest sellers is the hybrid holster combo, according to Annie Zhang, sales manager, and Reiko is expanding this line. The unique design combines holster, case and belt clip functions, with a selection that will accommodate most cell phones. Reiko has its own design team and leather factory, and manufactures many products. The firm is also developing a new leather wallet case. "Our new wallet case will be for all popular models and providers, including Apple, Samsung Galaxy, LG and Motorola," Zhang states. The case protects the cell phone and can also carry credit cards, identification and cash. Wholesale will be $2 to $5, and retail around $12.99 to $19.99. Retailers can see these and other top selling products at ASDLV, where Reiko has been exhibiting for about ten years. "We go to the show because we want to meet the general merchandise and kiosk retailers who attend," Zhang notes. "We will have many show specials and promotions."
Goldfather's Jewelry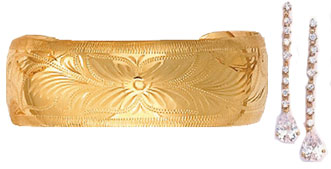 While cell phone accessories are relatively new products, jewels are a staple of human culture. Goldfather's Jewelry Inc./GFJ Wholesale has been serving the industry for 30 years, and wholesales a wide variety of fashion jewelry, including bracelets, necklaces, anklets, rings and charms, many with cubic zirconia. The company is a leader in fine fashion gold layered and rhodium finished jewelry, along with chain by the inch. "Our core items are chain by the inch, earrings, charms and rings," says David Pemberton, manager. "They are always top sellers, and we continually add new styles to keep our stock fresh." Birthstone cubic zirconia rings, earrings and pendants are also popular, especially for Mother's Day and other holidays, and Goldfather's carries a selection of styles and colors. "We will be taking about 80 percent of our merchandise to the ASDLV show next month, and have several show specials, including a good selection of starter kits," Pemberton shares. The firm has been attending ASDLV for close to 25 years. "Many shows are retail shows, but ASDLV is still a wholesale show. Numerous small business owners attend ASDLV, and those are the customers we are looking for."
J.R. Palacios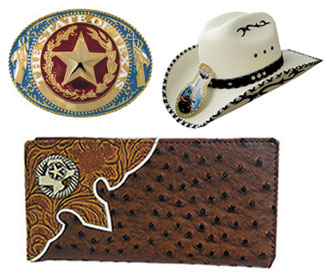 In addition to cell phone covers and jewelry, hats and belts are perennial consumer favorites. J.R. Palacios, a family business that launched in 1981, manufactures and imports western hats and sombreros for men, women and children. The firm's vast line of apparel and accessories includes leather belts and belt buckles, key chains, wallets, ponchos, serapes, maracas, Mexican arts and crafts, and more. J.R. Palacios is located in the Rio Grande Valley, the southernmost tip of Texas bordering with Mexico. The company is expanding its line of western hats this year, and will be exhibiting much of its merchandise at ASDLV. J.R. Palacios has been attending the trade show for around 25 years. "Our presence at the show makes a lot of customers aware of our products," states Jesus Palacios, marketing manager. "It is always a successful show for us, whether we get new customers or meet existing ones. Every year it seems we do more and more business at ASDLV."
Aliz International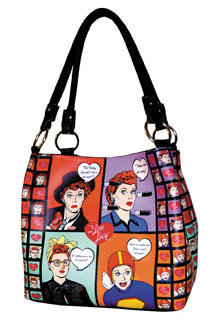 Another popular accessory is the handbag, and retailers can expect the hottest and most sought after looks from Aliz International. This year's newest introduction, the I Love Lucy Cartoon Collection of three handbag styles and a matching checkbook wallet, lets merchants add color and fun to their lineup.  Four unforgettable I love Lucy Cartoon graphic designs are printed on both sides of each bag.  The medium size shoulder bag has a top zipper closure, and a lined interior that features both an open slip and a zip pocket. In addition, Aliz has developed several new designs for its licensed Elvis Presley, Marilyn, Betty Boop, Audrey and Bettie Page handbag collections. The wholesale price is $8 to $18 per piece. "With their gorgeous printing, unique graphics and functional features, our celebrity licensed bags are always top sellers," says Rosanna Tran, president. The company also has a huge selection of trendy designer style bags, such as the Queen Collection Crown handbags and accessories. Aliz invites merchants to see an assortment of its products at ASDLV, a show the firm has attended for more than 20 years. "It is a great place for us to introduce our latest merchandise and to meet buyers face to face," Tran comments. "ASD is the largest wholesale merchandise trade show, and we meet a lot of new buyers at each event."
Whether funky cell phone cases, traditional jewelry, entertaining handbags, or authentic Mexican and western wear, fashion accessories are popular sellers from coast to coast. Top suppliers stand ready to supply your store with high quality products that help turn a profit, and keep customers eagerly returning for more.
To preview other ASDLV exhibitors, click here and here.
ASDLV
6255 W. Sunset Blvd, 19th Floor
Los Angeles, CA 90028
Toll Free: 800-421-4511
Tel.: 323-817-2200
Website: www.asdonline.com
Reiko Wireless Accessories
1218 Flushing Ave.
Brooklyn, NY 11237
Tel.: 718-418-0077
Website: www.reikowireless.com
ASDLV Booth SL4524
Goldfather's Jewelry, Inc./GFJ Wholesale
3870 E. Flamingo Rd., Suite A-2 #354
Las Vegas, NV 89121
Toll Free: 800-642-2545
Tel.: 702-891-8836
Website: www.goldfathers.com
ASDLV Booth N2746
J.R. Palacios
221 W. Washington Ave.
Harlingen, TX 78550
Toll Free: 800-441-8268
Tel.: 956-421-2864
Website: www.jrpalacios.com
ASDLV Booth C1429
Aliz International Inc.
11136 Satellite Blvd.
Orlando, FL 32837
Toll free: 888-BUY-ALIZ (888-289-2549)
Tel.: 407-438-8816
Website: www.alizbags.com
ASDLV Booth C2357