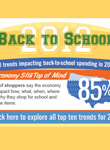 The average person with children in grades K-12 will spend $688.62 on their children's back-to-school merchandise, up from $603.63 last year, according to the National Retail Federation (NRF) 2012 Back-to-School spending survey, conducted by BIGinsight. Total spending is expected to reach $30.3 billion. Combined K-12 and college spending will reach $83.8 billion, serving as the second biggest consumer spending event for retailers behind the winter holidays.
Parents will spend the most on clothing, accessories and electronics this summer. Realistic about the cost of select items and the necessities needed for the school year, parents estimate they will spend an average of $246.10 on clothes and $217.88 on electronics. Nearly six in 10 parents will invest in some sort of electronic device, up from the 51.9 percent who planned to do so last year. Additionally, the average person with children in grades K-12 will spend $129.20 on shoes and $95.44 on school supplies such as notebooks, pencils and backpacks.
This year, 84.8 percent of consumers with school-aged children say the economy will impact their spending plans in some way. Specifically, more people plan to shop for sales more often, 51.1 percent vs. 50 percent last year, and cut back on their children's extracurricular activities (11 percent vs. 10.2 percent last year.) Shoppers looking to save some money will shop online more often (17.9 percent vs. 15.3 percent last year) and comparison shop online (32.1 percent vs. 29.8 percent last year.) Nearly six in 10 shoppers surveyed will take advantage of department stores' private label offerings and exclusive product lines, up from 57 percent last year and the highest in the survey's 10-year history.  Parents will also scour the Internet for free-shipping and other promotions. Nearly 40 percent will take their school shopping lists online, up from 31.7 percent last year and nearly doubling since 2007 when 21.4 percent planned to shop online.
Discount stores will be the most popular shopping destination, however, with 67.1 percent planning to shop there for school items. Clothing stores (52 percent), office supplies stores (42 percent), drug stores (22.7 percent) and thrift stores (14.4 percent) will also see their share of back-to-school shoppers. Electronic stores, popular with families looking to invest in smartphones, tablets and MP3 players for their children, will see a bump in traffic this year (26.3 percent vs. 21.7 percent last year.) More people have already or will begin shopping earlier than they did last year. Almost half (47.8 percent) are planning to begin shopping three weeks to one month before the school bell rings, up from 42.4 percent last year, and 22.3 percent have likely already made a dent in their shopping list, saying they would shop at least two months before school starts, up from 21.8 percent last year. Another quarter of Americans will start shopping one to two weeks before school, and 2.7 percent will wait until school starts. With some people having less to shop for and hoping to stock up on clearance items, 3.2 percent will shop after school starts, up from 2.6 percent last year.
Teenagers and pre-teens will spend more of their own money on back-to-school items. The average 13- to 17-year-old will spend $36.48 on pens, paper, lunch boxes and more, up from $31.64 last year. Children 6 to 12 years old will spend on average $25.63 on what they want for school, up from $15.12 last year. Additionally, when it comes to the heavy influence children have on their parents' back-to-school spending, 63.5 percent of parents say their children have at least 50 percent of a say in what they buy.
NRF's 2012 Back-to-School and Back-to-College spending surveys were designed to gauge consumer behavior and shopping trends related to back-to-school spending and back-to-college spending. The surveys were conducted for NRF by BIGinsight. The poll of 8,509 consumers was conducted from July 2 through 9, 2012. The consumer polls have a margin of error of plus or minus 1 percent.