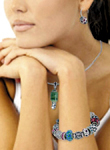 Jewelry makes definite fashion statements, and is purchased and prized for its beauty, delicacy, and detail. Offering Modular European Charm Beads at $2 to $3 wholesale, the statement Bajul Imports expresses is one of high quality design for good value. "Compatible and interchangeable with the popular Biagi, Troll, Chamillia and Pandora designer jewelry, Bajul Imports' charm beads can be sold at a suggested retail price of $5.99 to $8.99, allowing retailers to make a profit that's triple their cost," according to Jeff Lewis, president of Bajul Imports. Available in design categories including alphabet and number, romance and religion, Bajul's charm beads provide a customizable look for anyone looking to accessorize.
Charm Beads for Every Style
Lewis emphasizes, "Because of the high quality, attention to detail and affordable price, Bajul Import's charm beads are well received, with beads in the categories of family, romance, animal and beach among the most popular." Designing its own bead line, Bajul Imports expands on its bead categories on a regular basis. The European charm beads are made with a white copper base, similar color to silver, and plated with a heavy .925 sterling silver plating. With the high price of silver, the company turned to this design and material to manufacture and sell wholesale for less cost, while keeping the same look and quality of other well known charm bead designer lines. Bajul Imports believes accessorizing isn't just for adults. The manufacturer also offers a "Kidz Bling" bead category, for those children who want a bracelet like mom. These beads are of course of lesser quality, but are all lead and nickel free.
The beads display best, however, when used to accessorize Bajul Imports' other jewelry items. Most commonly purchased to accessorize bracelets, the company also sells necklaces, rings and earrings that can be personalized or built to match, using the charm beads. Lewis adds, "Bracelets, however, and specifically our threaded clasp bracelets, remain the most popular item to accessorize with the charm beads." Priced at $5 to $6 wholesale, retailers can almost double the wholesale price on these bracelets with a suggested retail of $9.99 to $12. The threaded quality of the bracelet and the beads themselves allows for the wearer to screw the beads into place, keeping them set and secure. For those who like a little fluidity in their beaded jewelry, Bajul Imports also offers bangle and toggle bracelets that unscrew, allowing the beads to slide on. Looking for more of a novelty gift? Bajul Imports offers a beadable pen, retailing twice wholesale at $19.99.
As a jewelry manufacturer, Bajul Imports supplies to wholesalers and independent retailers directly, such as gift shops and boutiques. In order to receive wholesale prices and information, wholesalers and retailers are advised to sign up for an account on Bajul Imports' website. Retail prices can be found on the website without an account, as the company directly sells to consumers as well. The company's European charm beads have also found a market among kiosk operators, Web retailers and home party entrepreneurs. "Our minimum order is $300 for a customer's first order, as well as a per item minimum of three. Subsequent orders do not have a minimum dollar amount, but the three per item minimum still applies," says Lewis. Shipping is free for orders over $50. For orders sold under $50, shipping is $2.95. All orders are shipped within 24 hours, and have a 10 day return policy for any item sent in error or with a defect.
For more information:
Bajul Imports
RR4 Box 1020
Piedmont, MO 63957
Tel.: 573-223-3361
Website: www.bajulimports.com