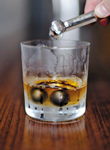 OriginalBOS wants to put its balls in your beverages, because what better way to chill whiskey and wine than with specially designed stainless steel balls with a patented Arctic core?  OriginalBOS, LLC unveiled its signature product in 2012, introducing a pair of food-grade stainless steel balls with a specially designed core that is guaranteed to keep whiskey and other beverages cold. "The product started when our CEO, Grant Vollmer, and some friends came up with the idea because they felt that whiskey stones weren't doing a great job of cooling whiskey," relates Chelsea Bakken, PR coordinator.
Around the same time they were in product development, one of the founders was diagnosed with testicular cancer. It turned out to be a false alarm, but that was enough to raise awareness in the company about the challenges associated with the disease, a relatively rare form of cancer that frequently strikes younger men who aren't likely to visit a doctor regularly. "So they decided to call the product "Balls of Steel," and donate a portion of proceeds to testicular cancer," Bakken says.
Balls of Steel is a quirky product with a humorous angle that does well in gift shops. The complete product lineup includes the original Balls of Steel, and a newer NAPA Wine Chiller designed for white wine. Balls of Steel come in two colors: an original stainless steel version and the After Dark edition, which is gunmetal black. The company also offers a full selection of accessories, including a cork-bottom coaster with a mustache shaped cutout that doubles as a bottle opener. The stainless steel balls leave no aftertaste in beverages, and don't pick up any flavors. They are all made from food-grade stainless steel.
According to Bakken, Balls of Steel are ideal gift items. In fact, up to 75 percent of sales occur during the holidays. The typical consumer is not a man or a whiskey drinker, but the wife or girlfriend of a whiskey drinker. "The main people who use Balls of Steel are men, but that's not who purchases it," Bakken says. "It's a great wife or girlfriend gift, so we target women aged 30 to 65 as buyers, even though it's men aged 30 to 65 who are users."
Buying details
Retailers qualify for wholesale pricing with a short registration form on the company's website, and the minimum order is 12 units, or one case. With a purchase of two cases, OriginalBOS includes a sales display. The company fills orders quickly, and average retail ranges from keystone to 125 percent.