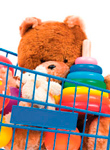 The most cutting-edge trends in toys and everything related to kids and play appear in New York City at the 112th North American International Toy Fair, Feb 14 -17 2015 at the Javits Convention Center.  A major stop on the global toy buying circuit, Toy Fair annually attracts around 10,000 mass and specialty buyers, and 1,200 toy sellers. Buyers flock to Toy Fair to shop for hundreds of thousands of eye-catching items that will set their stores apart from competitors.
Established more than a century ago, Toy Fair has evolved into the largest toy and youth entertainment product marketplace in the Western Hemisphere. Last year's show saw a 5 percent increase in attendance, an 11 percent surge in international buyers, and an 8 percent rise in exhibitors, bringing total attendance to nearly 27,000. "Toy Fair is considered a 'must attend' show for play professionals vying for a stake in the $22 billion U.S. toy market, and opportunities overseas," says Marian Bossard, vice president of meetings and events at the Toy Industry Association (TIA), owner and operator of Toy Fair. "Toy Fair attendees consistently report that they spot more trends and are introduced to more diverse and highly creative product lines than at any other toy marketplace in the world."
Trend Spotting
From specialty and high-end toys with sophisticated design and technology, to infant/toddler toys that foster early learning, to outdoor ride-ons and active toys, the Toy Fair playground has something for everyone. The show floor is divided into distinct product zones to make the shopping experience more focused and efficient for buyers. It also provides plenty of opportunity for exploration and discovery throughout the four-day event. To help Toy Fair attendees hone in on what's expected to be hot next year, TIA will unveil its official list of 2015 toy trends during a free presentation on Sunday, Feb 15.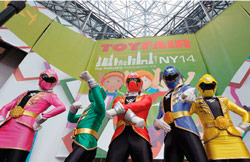 "For the first-time visitor or even the hundredth-time visitor, Toy Fair can be a bit overwhelming," notes TIA's toy trend expert, Adrienne Appell. "Our team of trend-spotters scours the floor, and then on day two we help to make the show a little less daunting when we announce the top toy trends of the year." At last year's show, TIA announced that "personalization" and "open-ended play" would be the hottest buzzwords of 2014, spanning each of the top trend categories. They included "Larger than Life" toys, innovative RCs, educational items, zombie-inspired playthings and retro toys. Looking ahead to 2015, TIA expects that all forms of creative playthings, "free play" tech toys, and an abundance of products tied to popular children's properties will be hot.
Boosting Business Savvy
In addition to offering a peek at the hottest new products, Toy Fair provides ample opportunities to increase your business savvy and understanding of the global toy market.
Independent Thinking, a free series specifically tailored to independent and specialty retailers, will include two sessions this coming year: 20/20 Ads: Improve Your Average Daily Sale up to 20% in 20 Days, and Customer Service is NOT Enough. Other complimentary educational offerings include Creative Factor, a series that provides information specifically of interest to toy inventors and designers, and well as TIA's Toy Safety Compliance Update, which brings attendees up to speed on toy safety standards, laws and compliance requirements in the United States and abroad.
TIA's Licensing Content Connection will once again offer education geared toward licensors, licensees, brand owners and entertainment executives. As part of the program, a "Licensing 101" session will be presented by Advanstar, organizers of Licensing Expo. Speakers from the Licensing Industry Merchandisers' Association (LIMA) will offer insights into using licenses creatively in an independent environment, and how to strategically use licenses to build your business. For the fifth consecutive year, the popular Digital Kids Conference will be co-located alongside Toy Fair on February 16-17, and will address important new strategies, valuable tools, and marketplace insight that will enable youth-focused media professionals to create best-selling digital toys, games and media services for kids.
Product Sourcing
Participants can begin their Toy Fair experience before the show opens its doors with ShopToyFair365.com, an innovative B2B e-commerce platform that is free for all registered buyers and exhibitors. The tool was designed to streamline the discovery, communication and purchase process for both buyers and sellers. It enables toy companies to create virtual product showrooms, which retailers can browse online or from a mobile device to identify products of interest. It ensures that buyers are never without access to new product options for their shelves, any time of year, or any time of day or night. ShopToyFair365 also allows buyers and sellers to exchange private messages directly, enhancing the management of existing relationships and providing easy opportunities to develop new ones. Buyers can also "follow" exhibiting companies to receive up-to-the-minute updates, as well as comment on, share and "like" product images.
For complete details on registration, exhibitor listings, educational seminars, hotel reservations, and to learn more about Toy Fair, visit ToyFairNY.com.