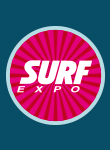 Surf Expo is currently riding a big wave. Already the longest running tradeshow in the world devoted exclusively to board sports and the beach lifestyle, in 2013 it was named one of the fastest growing trade shows for exhibitors, attendance, and exhibit space by Trade Show Executive Magazine. This is all the more remarkable because of Surf Expo's very tight targeting; the show only covers board sports, including skateboarding, surfing, wakeboarding, and resort and beach goods.
"We're really two shows in one," says Roy Turner, senior vice president of Emerald Expositions, the parent company of Surf Expo. "We're about 50 percent board sports and 50 percent resort and beach goods. Basically, if you have one foot in the water and one foot in the sand, we're the show for you." Surf Expo actually runs two shows: one in both January and September. They are approximately the same size, with about 2,600 booths, a quarter of a million square feet of exhibit space, and 26,000 attendees. The upcoming show is scheduled Jan 8–10 at the Orange County Convention Center in Orlando, Florida.
What makes Surf Expo stand out is the comprehensive sun-and-fun catalog of vendors. Surf Expo is the only trade show in the world that targets water activities like water skiing and kite boarding, plus board sports, apparel, boutique, resort goods, gifts, electronics, souvenirs and more. "We have a really great mix of vendors," Turner explains. "Even though the two sides of our show, the X-games type sports vendors and the resort vendors, don't think there's much overlap, there really is. Surf shops sell towels, and resorts and beach shops sell surf gear. At our show, you see people coming together and doing business you wouldn't always expect to see together."
Surf Expo carries products that cover every price point, from very high-end and hip surf brands to low-cost gifts and souvenirs. Vendors are organized into sections, but Turner still recommends having a game plan. "A little planning can really help you get the most from the show," he says. "You can sign up for product updates throughout the year, and get in touch with sales managers before you go. This is a big show, so planning definitely helps."
Attendance at Surf Expo is free to qualified buyers with a retail license and two types of documentation. The show runs Jan 8–10, 9 a.m. to 6 pm, Thursday and Friday, and 9 a.m. to 4 pm on Saturday. Registered buyers can bring a guest for a $30 guest fee.