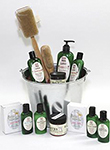 Bates Family Farm is a family and veteran owned and operated enterprise based out of the Appalachian Mountains of Southwestern Virginia. The farm sources and manufactures natural goat milk body products. After retiring from the Marines, founder Joseph Bates decided to take a break and live on a self-sustaining farm with his wife. "We got a bunch of goats to de-stress, unwind, and make some cheese," says Bates. "But we ended up with too much goat milk. I heard about making soaps and lotions so we gave it a go." Joseph and his wife took a soap making class, and then tried it out for themselves. After much trial and error they finally figured the best formula. "We took our soaps and lotions to the farmer's market and sold out. We took it to a few local stores and they sold out. That's when the bell went off and we realized we had something," he says.
Three years later, Bates Family Farm is gaining national traction. Their products are in stores across nine states, and still sell out at local farmer's markets. Their products include old-fashioned fat and lye soap, goat milk lotions, and goat milk body butters known as body b'udders. Their soaps, lotions, and b'udders all come in unscented, traditional fragrance, and essential oil varieties. "Honestly all types of stores do well with the traditional fragrances," says Bates. "We've found that as long as there is foot traffic, our products move." More recently, Bates has added the essential oil scents to appeal to consumers looking for all-natural options. "Our products are natural products," he says. "Water, olive oil, goat milk, and shea butter are over 90 percent of the product. The essential oil makes it that much more natural."
Though all of their products sell quickly, "our lotions are our best sellers," says Bates. "They basically sell themselves. Once the customer tries the tester, they buy it. Our number one feedback is that the lotion is non-greasy but still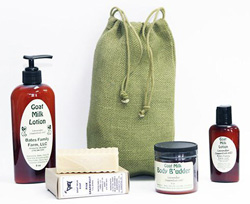 really moisturizing." The top-selling fragrance is the coconut mango. Georgia peach is also popular during warmer months. Bates is also releasing a seasonal watermelon fragrance.
The body b'udders are rich body creams that come in mini jars. They are the perfect size for keeping at the register. "We have a lot of stores who are doing really well with the b'udders as a register product," says Bates.
Bates attributes the success of his products to the high-quality ingredients, the fresh goats milk, and the fact that they cut no corners. "We really focus on quality and it paid off," he says. "We keep our products affordable, which gives more stores the opportunity to sell them, have a great 100% markup, and still keep the price low for customers."
There is an opening order minimum of $400, "Which will give retailers a good selection. We've found that stores with a variety of scents sell a lot more," says Bates. All re-orders have no minimum. Bates recommends that all new wholesale customers call to order a discounted sample pack to try the products first-hand before placing a full order. Discounted testers are available with regular orders. Bates Family Farm also offers drop shipping, and drives customer traffic to stores that carry their products through the store locator on their website.
For more information, visit. www.BatesFamilyFarmllc.com.