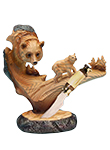 Ridgeway has supplied unique, American-themed goods to retailers for over thirty years. Based out of Montana, Ridgeway offers raccoon fur hats, hunting and collectible knives, headwear, personalized t-shirts, leather goods, laser jewelry, antler products, sand-carved glassware and many other collectibles and novelties. "We really have something for everyone," says owner Bart Milam.
Attention to Detail
Ridgeway has maintained loyal customers over the years because of the care and attention they devote to providing quality products. One of their most popular items, authentic raccoon fur hats, are completely made in the United States. "Not many other people can say that," says Milam. "We also have unique bear, buffalo, and horse statuaries that are designed by local artists."
Ridgeway has a diverse selection of knives including utilitarian, antler, bone handle, folding knives, nautical knives, box sets, and more. All of their knives are buffed and retouched in-house before leaving "to make them really shine," says Milam.
Flexible Customization
Almost all of Ridgeway's products are customizable and can be personalized for locations, events, and more. Their knives are the most popular category for name-dropping, allowing for personalized engraving on either the knife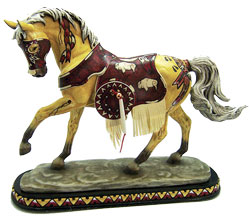 blade or the handle. Their team can also accommodate custom screen-printing projects for t-shirts and apparel. Ridgeway works with almost any custom project idea with low minimums for the small business owner or if someone wants to try a product, but are not sure how it will sell for them, customers can try just a few items. Merchandise displays are also available for several of Ridgeway's product lines. All displays are made in-house.
Ordering Information
Ridgeway's website offers online ordering for wholesale customers. Once clients create an account, they can log in to view special wholesale pricing and additional products not available on their retail site. Multiple shipping options are available, including international orders. For more information, visit www.RidgewayCompany.com.