By IvyLee Rosario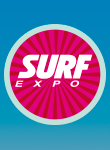 Best known as the marketplace for anything water, Surf Expo, which will take place September 10-12 at the Orange Country Convention Center in Orlando, is the one stop shop for all things resort and beach. With attendance around 15,000 and over 1200 companies representing 1800 brands, it is no wonder why Surf Expo is such a success for the watersports and living industry. "It is a unique marketplace divided into multiple categories. We represent board sports, wakeboards, surfboards, and paddleboards," said Roy Turner, Senior Vice President for Emerald Expositions and Show Director for Surf Expo. "We represent surf in particular from a fashion standpoint, sort of like that southern California lifestyle — swimwear, footwear, higher end resort wear, resort community — from name drop t-shirts to gift and accessories. Its almost like we are multiple shows rolled into one. If you can imagine a family vacation with a family of five going to the beach, we represent what every age group in that family would possible want to purchase."
The expo is said to have over 300 new brands at each show in addition to their legacy brands that participate every year, some having even attended the show for the past 39 years. If looking to attend Surf Expo for the first time, Turner says it is best to come prepared and do some pre-planning whether you are an exhibitor or a buyer. "We have so much product to offer so it would be helpful to do some research ahead of time. They can visit the website, talk to the concierge; use our mobile app for information. The expo is only three days and the appointments between buyers and exhibitors lasts around 25 to 30 minutes. Pre-planning helps this process stay organized." He also recommends taking advantage of the social time that is available throughout the show that will help attendees network and create lasting relationships.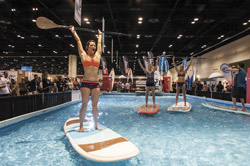 The best part of attending Surf Expo is the feeling you get while exploring the show, said Turner. "Imagine being with a group of people who do what they love everyday. Each category is filled with people who have their dream jobs. The attitude you will see here is unlike any other show you could go to. There is excitement, we represent a lifestyle business." Buyers are encouraged to take in the show with an open mind, making sure they see everything before making a purchase, as well as attending the special seminars and fashion shows so they can learn more about the merchandise. "While we have fashion, cater to action sports or board sports at the end of the day our DNA is water based. That could be any shoreline—coastal shoreline like a seashore, riverfront, and lakefront. What makes us unique is that we have that one connecting element. If you are in a resort business that is in a waterfront community, do a specific watersport, or if you are a fan of a certain lifestyle that connects to the beach in a certain way, that is what Surf Expo is."
Surf Expo offers hotel and travel information that can be found on their website. They have hotel rooms at lower rates available for attendees as well as the expo being located walking distance from the hotels. For more information on how to attend Surf Expo visit www.surfexpo.com.