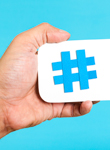 Twitter is evolving and changing. The origins of Twitter date back to the mid 2000's when its main purpose was to be a micro blogging system where users could make an update to friends and colleagues in 140 characters or less.
Regardless of any change that Twitter makes in the near future, your business needs to engage with customers on the platform. Why? Look at these stats:
• 302 million active users
• 500 million tweets sent per day
• 80% of active users are on mobile devices
In other words, your customers are on Twitter and you should be as well. Just being "present" is not enough. Here are six recommendations to get the most out of the Twitter experience for your company.
1. Establish your company as an industry authority
Your business needs to put out the highest quality content possible. Do not take shortcuts. Consistently check that your statistics come from credible sources. Do not rush to tweet about a trending topic until you have checked the facts out yourself. The greater the quality, the greater Twitter benefits you will see going forward, and you will notice the more advantages of Twitter for business, as people learn to come to you as a reliable source of information.
2. Spread your company's message using the platform
Twitter can assist with building solid brand recognition and spread awareness, when used effectively. With the correct procedures in place, there is an unbelievable amount of possibilities for knowledgeable brands looking to improve brand recognition. You do not need to have millions of followers to boost brand awareness; you just need to get social. Engage in Twitter conversations, respond to the people who you follow, check out hash tags related to your industry and offer your thoughts on a related topic. Simple acts of engagement will spread your brand message across the Internet.
3. Brag about your great sales
One of the biggest mistakes companies make when having a sale is not letting their customers know about it. It is so simple! Add a to-do to your company's processes that whenever an item is at a xx% discount, make sure the social media manager tweets about it! You are probably having the sale for a reason, maybe you sales are down for that product, or maybe a new line of products is coming in and you have to clear the shelves of the current one. Whatever the reason, tweet about it.
4. Share notes and interesting facts from conferences and meetings you attend
Sharing notes and highlights from conferences and events your business attends is a fantastic way to spread industry knowledge and insights. Not everyone is fortunate enough to attend the important events, so a committed live Tweeting session or "conference recap" of the best moments in the form of a blog or infographic, will make your customers feel like they are part of it all.
5. Compose welcome tweets to new customers who have recently signed up for your service or product
The advertising and marketing process does not end once a new customer signs up for your product and service. It is extremely important to nurture and support your customers in order to keep their business in the future; jumpstart this relationship by thanking new customers for choosing your business and greeting each one with a welcoming tweet.
6. Save positive customer tweets and incorporate them on your testimonials page
The statements that other people say about your products/services can have much more influence than what you say about your own brand. Make sure you are keeping tabs on instances of people mentioning your business and products in a positive light. Favorite the nicest tweets, and incorporate them on your product testimonial page.
Make the most out of your brand's Twitter experience. There is no day like today to get started.