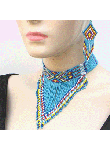 Beads Corner, a two-part company, has been manufacturing its seed bead product lines in India since 2002. Orders, like seed bead bib necklaces sold at a wholesale price between $8 and $15 for four items or less and seed bead earrings sold as a four piece set at a wholesale price of $10 and under, are collected, fulfilled and shipped from an office in the U.S. Although Beads Corner's website features an extensive line of seed bead jewelry, it also offers other seed bead items such as barrettes sold for wholesale between $6 and $10, buckles sold for wholesale at $7.75 and hat bands sold for wholesale between $3 and $10. The minimum order has been recently reduced to $50.
According to Ruchi Gupta, owner of Beads Corner's Wholesale Beaded website, "Most of the higher wholesale priced items, selling at $8 and up are sold at a retail price about three times the wholesale cost. Other lower wholesale priced items are also receiving a significant retail markup." Among the independent retailers carrying the Czech Republic inspired seed bead jewelry are gifts shops, primarily those at Native American pow-wows and Native American run casinos.
Beads Corner offers those visiting its site with not only quantity discounts for purchases of five to 12 items and 13 items or more, but retailers don't have to buy the same item in multiple quantity to get the discounted price. You can buy any 13 or more items from the same category and get the lowest price. For example, buy any one to three earrings and receive our regular low price. Or, buy any four to 12 earrings and instantly get a reduction in price. In addition to the quantity discount, Beads Corner also offers extra volume discounts. For those orders between $500 and $999, customers receive a five percent coupon discount. Order amounts between $1,000 and $1,999, $2,000 and $2,999, and $3,000 and up receive discounts of 10 percent, 15 percent and 20 percent respectively.
Gupta emphasizes, "We encourage retailers to try out the product in there stores and offer refunds and returns for items that go unsold." Seed beads, a uniformly shaped spherical and cylindrical bead only millimeters in size, easily attracts a unique market for those looking to offer outside gemstone and glass beaded jewelry.
For more information:
Beads Corner
13644 Cedar Run Ln Ste. 101
Herndon, VA 20171
Toll Free: 888-278-3889 (9Am – 8 PM EST, 7 days)
Website: www.WholesaleBeaded.com