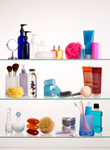 With various department stores in flux and some retailers struggling to change, beauty retailers have never faltered. If anything, the beauty industry has grown stronger and continues to develop. Their ability to adapt quickly, continue to hold prime locations, and attract new customers while maintaining a steady stream of loyal and established patrons gives beauty retailers an edge.
The beauty industry is one that is not afraid of change. The total number of independent beauty brands is up 42.7 percent this year. The industry was born out of creativity and is fuelled by new demands made by young generations. Millennials in particular care about their brands and where the products are coming from, forcing cruelty free brands to the top, and those who were not, to change their ways. The beauty industry is also a place where many women find success. There has been a recent outbreak of male beauty gurus and influencers on social media, but for decades it has been predominantly women dominating the industry. Women who create these products often wear and use them daily, which allows brands to better connect with customers to deliver the best products. The beauty industry's ability to change is driven by the passion and creativity of shoppers as well as the brands themselves.
With malls rebranding and reinventing themselves, the one type of store that continues to prevail is a beauty store. Ulta is doing incredibly well and Sephora continues to grow their customer base. These traditional mall stores rarely operate as a standalone brick and mortar. The location of beauty and makeup stores contributes to their success. High traffic and tourist areas bring in more customers for them. Ecommerce is common and effective for beauty retailers as well. Sites that are easy to navigate and simple are popular when searching for makeup, skin, and hair care products. Whether online or offline, the beauty industry continues to prosper.
There is an attraction to beauty. Makeup and other self-care products are seen as inexpensive pick-me-ups. Retailers sell beauty products that make people feel like they've taken a trip to the spa, but without the price tag. Makeup, beauty, and skincare retailers also often offer makeovers and free sample services; an experience. Retailers are trying to think of ways to turn shopping into a unique and personal experience while beauty shops have been doing it all along.
Beauty retailers are thriving and they will continue to do so. From being creative and adaptive to fulfilling the needs of their customers, they have their business and customer base down. Any retailer can look to the beauty industry to learn that creativity, openness to change, and offering feel-good pick-me-ups is all they need to succeed as well.