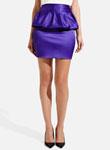 Shape and structure will dominate clothing racks everywhere this season, as fashion designers move away from the open, loose fitting styles that have wrapped the apparel sector for several years. Retailers soon will see clothes with defined seams that create shape and dimension. This type of tailoring has been commonplace in formal suits and dresses for years, and now in many designers' spring and summer 2013 runway shows, casual items are being treated with a tailor's approach, with great attention to the overall structure of the garment.
Among the popular styles emerging early this year are more exaggerated sleeves, resembling those on the runway of Chanel, Gucci and Balenciaga. Having more volume around the shoulders, wrists or the entire length of the arm was a favorite style for these icons' spring and summer collections, while other designers such as Alexander McQueen chose to accentuate women's hips with peplum skirts and blazers that mimicked the shape of birdcages. While it is unlikely that retailers will see literal translations of these runway pieces hitting stores, these designs indicate a widespread shift toward shapely attire. Additionally, asymmetric silhouettes are another trend expected to transition from the runway to the retail store. High-low hems, where the garment is cut shorter in the front and longer in the back, started to become popular on women's shirts and skirts last winter, and that same profile is expected to be more prevalent now, as retailers segue into spring.
Experimental textures and statement print fabrics are other trends working their way to storefront windows in the coming months. Rough tweeds, nubby knits and open crochet are a few popular textures likely to turn up in the coming months, with the latter manifesting in lightweight cotton and linen tops for summer. Fabrics that have been treated for a glossy sheen or leather-like appearance should continue to sell well, especially in the form of metallic pants and skirts. This trend took hold last fall, and is reportedly here to stay for several months to come, according to fashion bloggers at Denim Therapy and DeSmitten Design.
Also of note, cutout clothing is phasing out and being replaced by sheer mesh or lace panels, to reveal a hint of skin, according to renowned fashion blog, The Sartorialist. Diane von Furstenberg, Bebe and numerous other brands are carrying this trend over from last year and integrating it into their collections for the warmer months. While previously limited to black ensembles, red, pink and white mesh inserts will move in as temperatures rise.