Sungla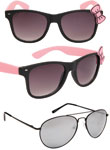 sses are always a fun fashion accessory, and the latest styles promise not to disappoint, as they reflect the newest apparel trends. Bling, bright hues and funky patterns, as well as retro looks including wayfarers, round Jackie O's, cat-eye contours, and metal military and aviator shapes will take center stage this spring and summer, offering retailers a variety of sales options.
Kirk Bachelder, CEO of CTS Wholesale Sunglasses, has more than 25 years in the business, having been a retailer of sunglasses prior to entering the wholesale business in 2005. According to Bachelder, wayfarers are where it's at this spring. "In January we got a brand new shipment in of a lot of colorful wayfarers. They were strong last year and they'll be strong this spring, too. Wayfarers were popular in the 80s, and fashions that have been popular in the past seem to cycle back." The wayfarer style also is popular because people tend to follow what celebrities are wearing, he states, and they are wearing wayfarers. Neon colors and distinctive patterns like polka dots, and add-ons such as bows will be popular for 2013, he adds. "We also expect animal themed glasses such as cats and those with leopard and tiger prints, to do well."
Novelty glasses may be another hot item. "We have brand new pixel design glasses, like the pixels on a computer monitor," Bachelder notes. "I think these are going to do well for us." Another style that went hot and cold and is expected to be hot again this year is the aviator, especially with mirrored lenses. "We have specialty ones, such as a pair that has an American flag pattern on the lens. Those will be good for the Fourth of July." The company offers more than 700 styles.
CTS's sunglasses wholesale for $8 to $40 per dozen, with the average price being $20 per dozen. The company offers additional discounts of 10, 15 and 20 percent based on volume. Retail prices range from $10 to $20, with the higher price point for polarized glasses, and there is no minimum order. CTS Wholesale Sunglasses has about 35 counter top and floor displays, which can be purchased separately or as a package deal. "We select our best sellers and load a display. For example, 96 pairs of sunglasses and a display wholesale for $215 and have a retail value of $955, so it's a nice markup," Bachelder points out. "We have a 20,000 sq. ft. warehouse and our website is really up to date," he stresses. "When retailers place an order with us, we have everything in stock ready to ship, and we usually ship the same day orders are placed." In addition to fast product delivery, CTS Wholesale Sunglasses is big on customer support. "We have live chat on our website, or customers can call us toll free. Our customer service is top notch."

Another longtime wholesaler of sunglasses is Sunny Trading, one of the largest direct importers of accessories. "We sell designer inspired and sports style sunglasses, many with polarized lenses, as well as safety and reading glasses," says Sam Huang, VP of the company. "A lot of our customers like to buy polarized sunglasses in a variety of styles. People used to think that they were just for fishing, but we have expanded our line to include casual, designer and sports styles as well." For spring, Huang expects retro and designer type shades to continue to be popular. "We're seeing fresh takes on the wayfarer and aviator shapes, and new color introductions, along with the mainstream colors that are always popular."
The company has more than 30 years of experience and a 50,000 square foot warehouse, enabling Sunny Trading to provide a selection of more than 700 of the trendiest sunglasses under the sun. Retailers can check out the company website to see the latest styles or to order a catalog. Sunny Trading wholesales sunglasses for $30 to $50 per dozen. "Our prices are a little higher than some of our competitors because of the superior quality of our merchandise," Huang points out. Retail pricing varies by region of the country, he says. "One style might sell for $30 in one city and sell for $10 in another." Point of purchase displays are sold separately at reasonable prices, Huang notes. "It's a convenience that we offer our regular customers." Sunny Trading is flexible on order size, but buyers must order individual styles by the dozen. Huang attributes the company's more than 30 years in business to its incredible selection of glasses, along with great customer service. "We deal more with quality than anything, and people are very happy with our merchandise."

Al Underwood, owner of Shady Deal Sunglasses®, agrees with his fellow suppliers that wayfarers will be hot this spring. "They will be popular in larger versions, and in a variety of new colors and patterns. Annie Hall styles, the type of glasses Diane Keaton wore in the Woody Allen film, are making a comeback, too." While retailers need to offer a mixture of such fashionable styles, it is just as important to offer quality and variety, Underwood suggests. "It's about letting consumers pick their favorite patterns." The company makes it easy for retailers to offer a broad selection of shades, as lines are color coded by category. "Green is our sports line, pink is fashion and purple is trendy," he explains, "and the eye catching Shady Deal price tags show those colors." While color codes stay the same, styles within each category are constantly changing to keep sellers up to date with the newest fashions. Retailers get maximum variety without having to purchase a large quantity of sunglasses, giving customers more buying options and sellers greater turnover.
A dozen pairs wholesale for $27, and individual sunglasses retail for $6.99, enabling retailers to triple their money. "The Shady Deal name is one that gets attention," Underwood notes, "so it's always our policy that 'All our Shady Deals are legitimate.'" Underwood launched his company in 1975. After many years of rack jobbing to stores, Shady Deal is now offered via the web to serve all. Shady Deal offers free shipping when retailers buy eight dozen pairs, which wholesale for $216, and spinners are sold separately. Now through March 31st, new customers receive a free 108 piece floor display with the purchase of 25 dozen pairs. Simply place the required order online, and requesting the SD108/331 special offer.
"The Hello Kitty design, still a wayfarer, will be popular with teenagers," says Anthony Masiello, president of Mass Vision. The company offers mixed dozens, giving retailers 12 pre-selected styles per dozen, which may be particularly attractive to retailers with small stores and limited space. "We offer six mixes," Masiello notes. "Our most popular brand i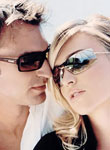 s Louis Valentin, which is inspired by Louis Vuitton." The firm also has a fashion mix and a men's mix. There are around 500 styles on the website at a time, and the offerings change frequently. Wholesale prices range from $18 to $32 per dozen, and sunglasses retail for around $10 per pair, with no minimum order. Mass Vision's 15 different displays for both counter and floor are sold separately. The company also offers three packages which include a display and sunglasses. Retailers can purchase, for example, the 24 pair counter spinner with a mirror on the top, along with 30 pairs of Mass Vision's best selling sunglasses for $110.
In addition to wayfarers, 70s style sunglasses with color translucent frames will be popular this spring, according to Janice Chien, sales manager of PR Sunglasses. "Neon and different colors and finishes are big this year. I'm also seeing neutral colors coming back. For men, sports wraps and aviator styles with new accents and colors are very popular." PR Sunglasses carries many lines designed for small kiosks and convenience stores, Chien shares. Retail markup is three to five times wholesale prices, which are available upon request. The company also sells displays, both floor and counter, that hold six to 120 pairs of glasses. The minimum order is $100. "We offer the best quality at the lowest prices, and great customer service," Chien stresses. "All our sunglasses are UV protected and have polycarbonate lens."
Clearly, sunglasses suppliers see eye to eye when it comes to spring trends, and wayfarers are leading the way. Independent retailers who stock a variety of sunglasses styles in both brilliant and neutral colors, as well as bold patterns, are sure to catch the eyes of consumers. A variety of styles and price points abound, making sunglasses an attractive product to round out any retailer's merchandise line.
For more information:
CTS Wholesale LLC
3525 Brady Ct. N.E.
Salem, OR 97301
Toll Free: 800-796-3486
Tel.: 503-364-3486
Website: www.ctswholesalesunglasses.com

Sunny Trading, Inc.
8815 NW 33rd Street, #130
Miami, FL 33172
Toll Free: 800-327-0032
Tel.: 305-591-3065
Website: sunico.com/stbeta

Shady Deal Corporation
P.O. Box 13887
Jackson, MS 39236
Toll Free: 888-GO-SHADY
Website: www.shadydeal.biz

Mass Vision
315 Halvern Cove
Rochester, NY 14622
Toll Free: 877-609-9968
Tel.: 585-254-3910
Website: www.massvisionsunglasses.com

PR Sunglasses
7596 Harwin Dr.
Houston, TX 77036
Toll Free: 800-777-7656
Tel.: 713-975-8252
Website: www.prsunglasses.co