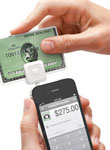 More than 26 million small businesses do not accept credit card payments. That, no doubt, will change, with the accessibility of myriad mobile payment apps, most of which supply free "dongles," credit card readers in varying shapes that attach to a smartphone or tablet. Mobile payment platforms are appealing to small businesses because fees are generally less than those paid to credit card companies; there are no setup, cancellation or monthly fees; devices are portable; they offer a slew of data services; and, most importantly, they enable small business operators to capture sales they would not if they remained "cash only." Three popular mobile payment tools are Square, LevelUp and PayAnywhere, and Merchant Warehouse just announced its new Genius platform for retailers.
Square, launched in 2009 by Twitter co-founder Jack Dorsey, is available for the iPhone, iPod Touch, iPad and Android-based mobile phones. The Square card reader plugs into a device's standard 3.5mm headphone jack. It is security standard PCI-DSS Level 1 compliant, and full data encryption occurs at the moment of the credit card swipe. Square offers two pricing plans: a 2.75 percent fee per swipe or a $275 monthly fee for swiped transactions less than or equal to $400 up to $250,000 per year. All manually entered transactions, regardless of plan, cost 3.5 percent plus 15 cents. Visa, MasterCard, American Express and Discover have the same rate. Rewards cards also are processed at these rates with no extra fees and debit cards also are accepted. The Square Register iPad app serves as a full point-of-sale system for businesses to accept payments, track inventory, and share menu and location information. Square is being used by more than two million individuals and businesses, and processing over $8 billion in payments annually.

There are two main differences between the Square card reader and LevelUp, according to Mike Eisdorfer, LevelUp New York City manager. Launched about 20 months ago, LevelUp is the first interchange zero product, "meaning the merchant does not have to pay any credit card fees," explains Eisdorfer. Nor are there any hardware fees. Also of note, "there are many mobile payment applications, but they aren't mobile payment plus loyalty programs like LevelUp," Eisdorfer continues. "Merchants attract and retain customers through campaigns. It's pay for performance. For example, if the promotion is 'Spend $50, Get $5,' all $50 goes into the merchant's bank account and $5 in credits for the next purchase goes to the customer. LevelUp will take $2 (40 cents per dollar) on the amount of the reward." LevelUp's mobile apps leverage NFC technology, QR codes and blue tooth. "We're also integrating with a lot of point of sales systems and we have 35 percent of the market. That allows us to have more data driven campaigns based on actual spending as well as on the types of products purchased," Eisdorfer shares. There are 300,000 users and nearly 4,000 U.S. merchants, ranging in size from small mom-and-pop shops to large chain retailers, using LevelUp. These merchants also can access LevelUp's marketing and analytics tools. LevelUp is safer than a credit card, Eisdorfer points out. It doesn't store any personal credit card information and no one can copy the QR code. "It's a dummy QR code above the real one, and it changes with every scan.
PayAnywhere offers a free card reader and app for iOS 4.0+ devices, Android 2.1+ phones, and BlackBerry 4.7+ devices, and accepts Visa, MasterCard, American Express and Discover cards with a transaction fee of 2.69 percent per swipe. Keyed-in transactions are subject to a fee of 3.49 percent plus 19 cents. PayAnywhere lets merchants accept and track cash payments, tips and discounts, as well. Merchants can send customized receipts to customers via email. For iOS devices, merchants can connect an AirPrint-enabled or Star thermal printer and a cash drawer.
Merchant Warehouse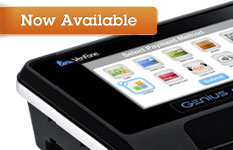 On top of the vast array of mobile payment apps is Merchant Warehouse, a business that allows shopkeepers to process any type of mobile payment. "Our Genius customer engagement platform aggregates and integrates every transaction technology, payment type and customer program today and tomorrow in one countertop device," explains Matt Cicciari, director of product marketing at Merchant Warehouse. "With the emergence of digital wallets, global commerce and loyalty programs, there is a need for merchants to be able to accept alternative payment and program types. Merchant Warehouse gives merchants the opportunity to never turn away a paying customer whether it involves cash, credit card, pin debit, NFC, QR or EMV, which is coming down the road in the next few years," he stresses. EMV, which stands for Europay, MasterCard and Visa, is a global standard for inter-operation of integrated circuit cards (IC cards or "chip cards"), IC card capable point of sale (POS) terminals and automated teller machines (ATMs), for authenticating credit and debit card transactions. Visa and MasterCard recently announced plans to accelerate chip migration in the U.S. by 2015. "In order to process EMV payments, merchants are going to need to replace their current payment processing hardware," Cicciari stresses. "With our Genius platform, however, merchants have access to all current and future payment types, so when EMV is here, they won't have to deal with any disruptions to their business."
"There is a race to the bottom," Cicciari adds, "and everyone is going toward reducing or eliminating interchange fees. Companies that still base their businesses on interchange are going to go out of business because of businesses like LevelUp, that provide ways of processing transactions and adding value for merchants and consumers alike."
In 2013, more than ever, retailers must focus on providing a great customer experience, including accepting multiple forms of payment, to drive better business and compete with big-box stores. Mobile payment apps' features vary widely, providing different capabilities, analytics and interchange fees, and should be evaluated to determine which is the best fit for your business needs.