by IvyLee Rosario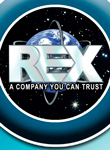 Expanding your retail merchandise always comes with the same set of questions: what do I want to sell next and how do I begin selling those items? In order to assist our readers in reaching their highest selling potential, Independent Retailer created a monthly series called "Beyond Your Lines." Here we provide you with the best tips from experts in their selling categories on how to grow your business, what to expect from the merchandiser and what they will require from you, to ensure an effective and efficient exchange. Continuing our segment will be Mani Fakhari, Sales Representative for Rex International, who will shed some light on what it takes to begin selling our sixth category item: knives and self-defense products.
Getting Started:
The topic of knives and self-defense merchandise may seem broad with the array of items to choose from such as such as spring action, hunting and folding knives, pepper sprays, tasers and flashlights, but this way it will give you a chance to really think about what kinds of self-defense products should be sold at your specific store. So, with the help of our expert, the must know information on selling self-defense items will be right at your fingertips. There are several ways of going about purchasing new stock, but take into account these tips while growing your store.
If struggling to figure out which product to start selling first, Fakhari recommends going with pepper spray and the spring assisted pocket knives. "This is an item that everyone knows. People can just come into your store, buy one and walk out. The pocket knives are the most practical, ones that anyone and everyone can carry with them. It is multi-purpose and easy to use." When it comes to knives, retailers may be apprehensive to sell but they are legal in all 50 states and are a popular seller amongst different stores. Although they are legal, storeowners should double-check with their location law enforcement to make sure they will not face any problems when trying to sell these knives in store, as regulations in different towns and cities may vary.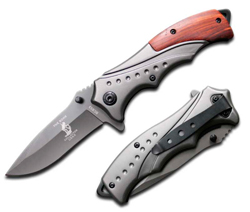 Another must have when expanding your merchandise is having a reputable supplier. In order to find the best one, keep an eye out for quality of products, pricing and inventory. If you can find a supplier that offers the best deals on high value items, all while keeping stock at all times, then you have found yourself a winner. In addition to these top three must haves, you should also pay attention to the suppliers return policy. "The standard policy for returns is 30 days on defective or damaged merchandise," said Fakhari. "Your supplier should give you ease that you can return a product if there is a major problem."
Although there might be some fears along the way, if you put in the effort and do your research, there is no reason why your business will not continue with its success. A popular worry amongst adding a product line is that retailers will be stuck with non-selling merchandise, but Fakhari said this should not happen if you have the right supplier. "Having a sales rep at the company you work with is important, you need to build a trust with them. Good companies will not push bad products on you."
Mistakes to Avoid:
There will always be common mistakes and misconceptions retailers have when upsizing their merchandise. Here are a few to avoid and ways to correct them.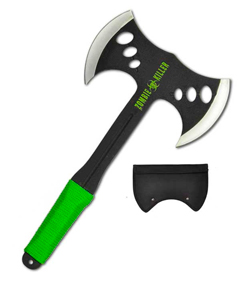 Pay attention to what is selling most from your new product line instead of guessing. "So many times customers go with their gut instead of what sells. That is how you could end up with non-selling merchandise," said Fakhari. "Lots of small businesses buy what they like and if it does not sell then they think it is the products fault. When I give recommendations to our customers it is based on sales for the particular item, that way they will sell those and rebuy from us." Another mistake retailers seem to be making is not knowing what to buy from their supplier. Instead of starting with one specific product and building from that point, some buy a huge variety that they are unsure of how to sell. Instead of offering five different kinds of knives, start with the spring loaded like Fakhari suggested and then listen to what other products your customers might be interested in. "At first when getting into this business, they are not 100% sure of the buying process. If you go with a variety, you do not know what will sell or not. Too much of a mixture of products will make a retailer unorganized and having too many choices can hurt their business."
Keep in Mind:
Now that we have provided the tools and expertise on the self-defense industry, it is up to you, the retailer, to go out and decide if this is the right merchandising step for you. Remember these tips when on your journey to retail growth.
• Listen to your customers because at the end of the day they will tell you exactly what products they want
• Appeal to your customer base: with the amount of female consumers increasing, offering different colors and patterns on your products will give variety to your buyers
• Check with your town or state to make sure there are no regulations on selling knives in your store
• Use proper discretion when selling knives to anyone and make sure you check I.D. to ensure the customer is over the age of 18
• Start with one item and gradually grow your line from there after keeping track of sales
• Look for quality, pricing and upkeep on inventory as selling points in looking for a reliable supplier