Big Mouth Toys designs, creates and produces one-of-a-kind humorous novelty toys and gag gifts. The company has more than 500 products, and is introducing 50 new and original items this spring.
Birdhouses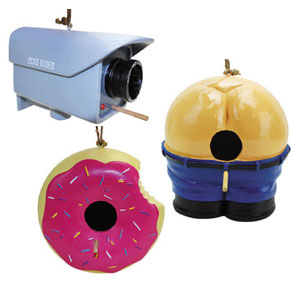 Big Mouth Toys is building a line of birdhouses, and has added five new models. "Mooning" is not the celestial type and only for the brave and bold; "Outhouse" replicates a blue porta-potty, such as those seen on job sites; "Toilet" is simply that; "Donut" is round with pink frosting, sprinkles and a bite taken out of it; and "Security Camera" is a blue body with a fake camera lens. Each birdhouse includes a perch and a rope to attach to a tree. "They are very well received by our customers, and we've already had a significant amount of orders," reports Lynn Polaski, national sales account manager. "People say they are cute, different and fun." Wholesale is $10 and retail is $19.99 each.
Oversized pool floats
Following up on its popular Donut and Shark Bite floats, the firm has also expanded the selection of pool floats. "Our gigantic 'Ice Cream Sandwich' pool float is over six feet long, and also has a bite out of it. Naturally, everything around here has a bite out of it," Polaski jests. Another float looks like a toilet seat with a tank on the back. The Ice Cream Sandwich float retails for $40 and the Toilet retails for $20.
Quirky garden gnomes
Big Mouth Toys is also expanding a popular selection of edgy garden gnomes. The seven new additions are "The Go Away Gnome," "Butcher Garden Gnome," "Beard-O The Geeky Garden Gnome," "The Happy Couple Garden Gnomes," "The Great Garden Gnome Massacre," "Skeeter The Redneck Gnome," and "Whatzup the Garden Gnome Dude." "We previewed them at Toy Fair 2014 and people love them," Polaski shares. Gnomes wholesale for $9, and retail for $18 to $20.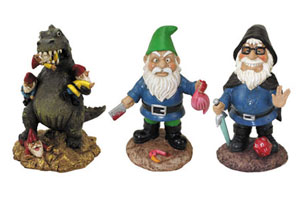 The company is developing marketing materials and point of purchase displays, and the minimum order is $100. Big Mouth Toys was founded in 1998 by former class clown and professional prankster, Steve Wampold. Every item is designed by Wampold, and crafted with strict attention to quality control and detail, spanning as many as ten refinements in the design and construction process before final production begins.  The range of products includes funny mugs and shot glasses, salt & pepper shakers, political items, milestone gifts, party time, and more.
Big Mouth Toys can be found in novelty and gift shops, party and toy stores, mail order catalogs, online, and wherever fun things are sold.  The company distributes its products throughout the U.S., and in many international territories. Big Mouth Toys recently announced new partnerships with distributors in Canada and the UK.
Big Mouth Toys
655 Winding Brook Drive, Suite 205
Glastonbury, CT 06033
Toll Free: 800-592-0293
Tel.: 860-659-8304
Website: bigmouthtoys.com