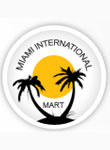 Miami International Mart in Miami Gardens, FL brings together retail buyers and leading distributors of thousands of products from across the U.S. Held four times a year, the remaining 2014 show dates are April 6-8, June 22-24, and September 7-9. The first show in 2015 is scheduled for January 25-27.
Offering a huge variety of products under one roof, the show is a great one-stop shop. Retailers will find merchandise at all price points, from low-end and closeout products to name brands and high-end items. Product categories are: Housewares, Bath Accessories, Storage, Closeouts, Electronics, Back to School, Linens, Kitchen Textiles, Candles, Food & Candy, Linens & Comforters, Towels, Kitchen & Bath, Health & Beauty Aids, Hair Accessories, Toys, Hosiery & Socks, and Party Supplies & Accessories. Booths are staffed during the shows so customers can speak with representatives and place orders.
Miami International Mart attracts many international, Central American, Caribbean and local customers. The Mart sells to all vendors, including dollar stores, wholesalers, retailers, supermarkets, hardware chains, and catalog companies.
ASIA AMERICA also in town
A huge advantage during the show is Miami International Mart's proximity to the ASIA AMERICA wholesale show. The April and September shows overlap, so customers can attend both shows, with more to see. ASIA AMERICA runs April 8-10 and September 8-10 at the Miami Beach Convention Center, just 15 minutes away from Miami International Mart. Another advantage is that all exhibitors at the show are able to consolidate your orders at the Miami location, if needed. To make it even easier for buyers to enjoy the event, breakfast and lunch are served at the show. There is no fee for buyers to attend the show, and Miami International Mart will absorb a portion of travel expenses for qualified buyers.
The Miami wholesale facility permanently houses 25 distributors in an open floor plan, and retail merchants can also visit the showroom year round. In between shows, there is a representative available to assist you. To learn more about the exhibitors and their merchandise, please visit Miami International Mart's website.
Miami International Mart
20600 NW 47th Ave.
Miami Gardens, FL 33055
Tel.: 305-624-6623
Website: martofmiami.com
ASIA AMERICA Wholesale Show
Website: asiaamericatradeshow.com