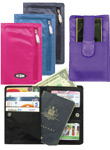 Big Skinny Corporation specializes in creating thin, functional wallets and accessories for men and women. Kiril Alexandrov, president of the company, launched Big Skinny in 2005 with the introduction of a new kind of sport wallet. Tired of thick, ill-fitting billfolds, Alexandrov designed a thin version that allowed him to comfortably carry all the cash and cards he needed. The sport wallet is made of nylon microfiber, which Alexandrov found to be the thinnest material that would also hold up well over time. "It is machine washable and water resistant," explains Catherine Alexandrov, COO, who joined her husband in the business soon after its launch.
"One of our newest products is the myPhone Wallet. It's a full size wallet that has a stretchy cellphone pocket on the front," Catherine Alexandrov comments. "Women like it because they can reach into their handbags and pull several things out at the same time. They don't have worry about digging for a wallet, keys, phone and all that stuff." Currently available in teal, black, red, purple and pink, myPhone wholesales for $12.98 and retails for $25.95.
Another new product from Big Skinny is the leather magnetic money clip for men. The clip keeps bills secure and holds about 12 plastic cards, and the metal-free design won't tear trouser pockets. The product wholesales for $11.25 and retails for $22.50.
Big Skinny carries around 35 products, each is available in several colors and in both a leather hybrid, as well as the original nylon version. The minimum order is $200, and point-of-purchase displays are available.
Where to buy:
Contact Big Skinny Corp.
Big Skinny Corp.
P.O. Box 330101
Pacoima, CA 91333
Toll Free: 866-305-1365
Visit Big Skinny